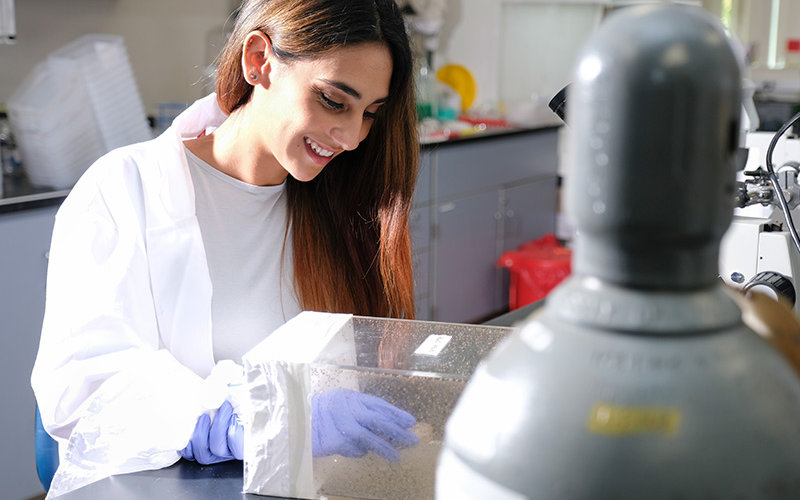 Santiago Community College student Michelle Baez had never heard of fruit flies, let alone how studying flies can help to better understand human health and longevity.
After spending eight weeks this summer in a biological science lab at Cal State Fullerton, Baez learned all about fruit flies, and studied their gut bacteria and how it can relate to the body's immune system.
"It was eye-opening," said Baez of working in the lab of Parvin Shahrestani, assistant professor of biological science. Baez, who is transferring to CSUF this fall, added that her campus faculty and student mentors inspired her to consider a research career.
Baez was among 41 community college students who conducted hands-on science and engineering research with 19 CSUF faculty members and their students as part of "Regional Alliance in STEM Education: Raising the Bar in Transfer, Retention and Graduation Rates," known as Project RAISE.
Participating students were from the partner institutions of Citrus, Cypress, Fullerton, Golden West, Mt. San Antonio, Orange Coast, Santa Ana and Santiago Canyon community colleges — all of which, like CSUF, are designated as Hispanic-Serving Institutions.
The program's goals are to increase transfer, persistence and graduation rates for Hispanic and low-income students interested in science, technology, engineering and math — STEM — careers. The program ties in with California State University's Graduation Initiative 2025 to reduce time to graduation and close the achievement gap.
Mark S. Filowitz, associate dean of the College of Natural Sciences and Mathematics, secured a nearly $6 million grant awarded to CSUF in 2016 from the U.S. Department of Education for Project RAISE. Filowitz directs the program with Susan Barua, dean of the College of Engineering and Computer Science.
"The undergraduate research experience provides students a chance to work in a lab, opens doors to future research opportunities and prepares them for careers in STEM research, graduate or professional school, or positions in the workforce," said Megan Drangstveit, director of Project RAISE.
Rakesh Mahto, assistant professor of computer engineering, mentored four community college students in his lab, including Fullerton College student Javier Velazquez. Mahto introduced students to advanced data analysis techniques that are currently used for building machine learning and artificial intelligence-based algorithms.
Velazquez, an electrical engineering major, was exposed to applied machine learning to predict the personality type of a social media user. 
"Participating in a program like Project RAISE is a great way for students to gain experience in their field of study, and also gives students exposure to disciplines they might want to study," Mahto said. "Students learn about current research topics and acquire a skill-set that will help them excel in a STEM discipline at a four-year university."
Alejandra Garcia, a biological science major who transferred to the university last fall from Cypress College, is a peer adviser for the program. She participated in the program's inaugural research experience in summer 2017 and worked in the lab of Maria C. Linder, professor of chemistry and biochemistry. Now a CSUF student, Garcia continues to work alongside her faculty mentor to study how copper functions in the body.
"Dr. Linder has been an amazing mentor," said Garcia, a first-generation college student who is considering a career as a physician or researcher. "She has shown me how to conduct research and how to present my work. Now as a peer adviser, I've been able to pass down so much knowledge that Dr. Linder has taught me to other Project RAISE students."