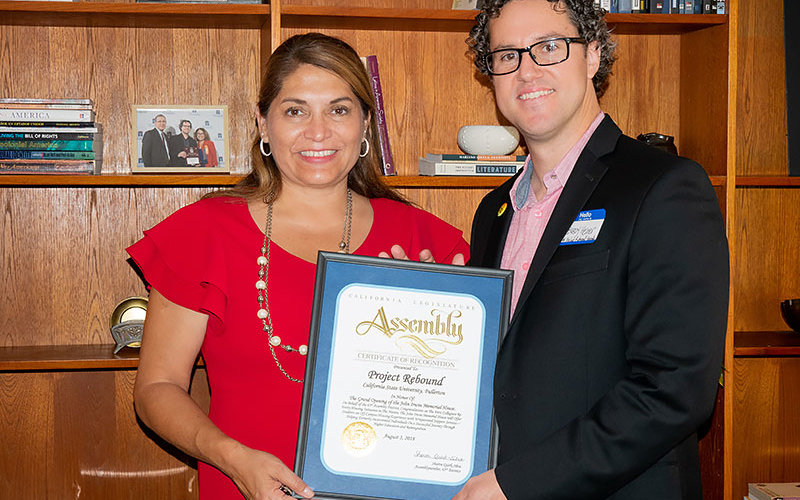 Cal State Fullerton's Project Rebound, in partnership with A New Way of Life Re-Entry Project, has introduced a housing initiative to support students in achieving their higher education goals.
The John Irwin Memorial House in north Orange County is named after Project Rebound founder John Irwin, who served five years in state prison before pursuing a bachelor's degree from UCLA and a doctorate from UC Berkeley. He became a sociology professor at San Francisco State University and created Project Rebound to help those released from the prison system.
CSUF's Project Rebound program, which currently serves more than 20 students, was launched in 2016 as part of an eight-campus California State University consortium committed to supporting the higher education and successful reintegration of formerly incarcerated individuals.
Brady Heiner, director of CSUF's Project Rebound and associate professor of philosophy, described the house as a place where Project Rebound scholars can receive holistic care and academic support, live in a safe and substance-free environment, and be surrounded by mentors and a strong social network. Up to six Project Rebound students are expected to move into the house before the start of the fall semester later this month.
The initiative is believed to be the nation's first to provide housing and support services specifically for formerly incarcerated university students, Heiner noted.
"Not only do we envision this house as a residential place for students to heal and pursue their education, but also as a community-building space so we can expand the community of support for our scholars," Heiner said at an open house held Aug. 3. More than 200 attended the gathering, including Assemblywoman Sharon Quirk-Silva, who presented a certificate of recognition from the state Assembly.
Deirdre Wilson will serve as the on-site housing coordinator and life coach, managing the five-bedroom, 2.5-bath house and facilitating wraparound support services to improve the students' academic, psychosocial and employment outcomes. Wilson previously served as housing coordinator for the Gemma Transitional House for Women and program coordinator for the California Coalition for Women Prisoners.
Heiner said the initiative was born from listening to visionaries who have firsthand experience with the prison system, such as Susan Burton, founder and executive director of A New Way of Life Re-Entry Project, and Romarilyn Ralston, program coordinator of CSUF's Project Rebound.
"The leadership and integration of currently and formerly incarcerated individuals is essential to finding solutions to the problems of mass incarceration," said Heiner. "Those who are closest to the problem hold the seeds of the solution."
Several community partners have contributed to the housing initiative and provided scholarship opportunities for students, including the Bickerstaff Family Foundation, DreamMaker Foundation, McMillen Family Foundation, North Orange County Public Safety Task Force, Orange County Chapter of Sigma Pi Phi, Yerba Buena Fund and dozens of individual donors.