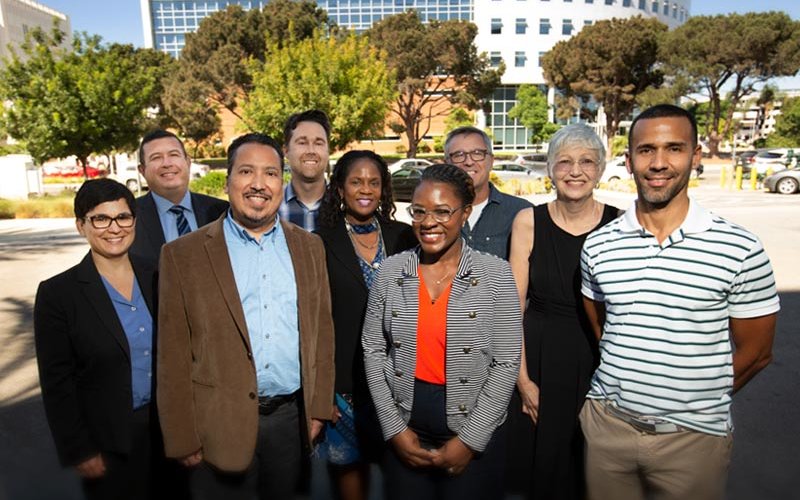 Six faculty members have been named to Cal State Fullerton's new Faculty Diversity and Inclusion Fellows Program. The pilot program — led by the divisions of Human Resources, Diversity and Inclusion, and Academic Affairs — aims to promote the recruitment and retention of a high-quality and diverse faculty and staff at CSUF.
Throughout the academic year, fellows will work with the Office of Diversity, Inclusion and Equity Programs to identify best practices across the nation and consider strategies for developing sustainable diversity within the faculty recruitment, reappointment, advancement and retention processes.
"This program makes faculty members an important partner in informing the practices that we do to recruit and retain our faculty," said Bobbie Porter, assistant vice president for diversity, inclusion and equity. "As we begin to interrogate our practices around hiring and retention, and identify strategies for moving the needle in ways we haven't historically been able to do, we hope it will allow us to become more transformational in the work that we do."
On the recruitment side, Porter is looking forward to proactively recruiting for positions that may open up as far as five years out. Mentorship, she said, will continue to be one retention strategy to help faculty members get connected to campus, develop their identities as Titans and be successful in their road to tenure.
The 2018-19 fellows include:
Alexandro Gradilla, associate professor of Chicana and Chicano studies
David Naish, associate professor of civil and environmental engineering
Alvin Rangel, associate professor of theatre and dance
James Rodriguez, professor of child and adolescent studies
Fernando Rodriguez-Valls, associate professor of secondary education
Terry Saenz, professor of communication sciences and disorders