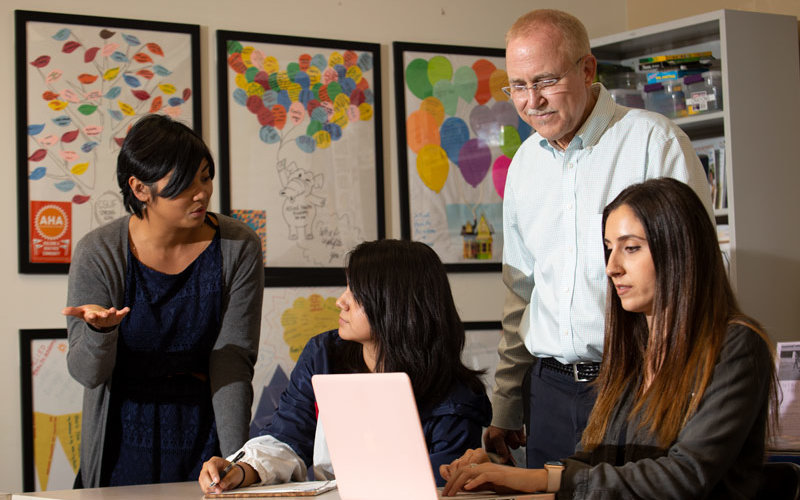 A federally funded program to broaden students' understanding of career options in the healthcare field, particularly allied health will be expanding to reach more students, offer more opportunities and provide the support and guidance to help students succeed.
David Chenot, chair and professor of social work at Cal State Fullerton, and Laurie Roades, dean of the College of Health and Human Development, are recipients of a new five-year U.S. Department of Health and Human Services, Health Resources and Services Administration, grant for the Health Career Opportunity Program (HCOP). First-year funding of the anticipated $3.1 million award is $635,872. 
The program, begun as an outreach effort to underrepresented, low-income students in high school, community college and as undergraduates at Cal State Fullerton, is now being expanded to offer scholarships and support to these students as they make their way through graduate programs.
Students like Sarah Essayli, a first-generation college student and 2014 CSUF graduate. She is now studying for her master of social work degree at her alma mater.
"I knew I wanted to help people but I was not confident at how to do this," she explains. "As an undergraduate I didn't know about social work and that you could have a career working in a wide range of areas, including hospitals and in the community.
"I had major 'imposter' syndrome," she adds. "I had confusion about getting into the career I wanted. This program helped me not only understand but feel comfortable wanting a career in this field."
"We know that many students think of health care as being limited to work as doctors and nurses, but the allied health care fields — occupational therapy, communicative disorders, counseling, social work, public health, epidemiology, health education and gerontology  — are less well known," says Chenot. "We wanted students to recognize that there are many viable career options."
"The assistance and support helped me focus on what I could do, how I could make a difference in my community."
Nayelie Benitez thought she was going to become a nurse. During high school she took part in training to become a certified nurse assistant. As she connected with nurses and patients, nursing seemed to be the path for her, but she wasn't sure. Through HCOP,  she learned about other careers in allied health.
"Through the staff's encouragement and support, I got involved in the Big Data Scholars program on campus," Benitez says. That experience and others led to Benitez shifting her career focus from nursing to health science. She is currently applying to graduate programs in epidemiology.
HCOP offers academies and workshops, internships and summer bridge programs and mentorships. The new funding supports an expansion to participating undergrads who have graduated and are enrolled in graduate studies at Fullerton.
A pre-matriculation program, offered to those moving forward in graduate studies, offers research and writing assistance, as well as a literature review — how to critically read and review a journal article, synthesize multiple articles and be able to evaluate the collective information, says Essayli.   
Graduate student participants also serve as ambassadors for the overall program and receive an annual $7,000 scholarship for two years.
"The program really changed my educational outcome," adds Essayli, who was a guest speaker at this year's pre-matriculation program. "The assistance and support helped me focus on what I could do, how I could make a difference in my community."
"Because of the preparation I'm receiving through HCOP, I feel ready to pursue grad school," says Benitez. "I know that I can keep up with the work and excel."