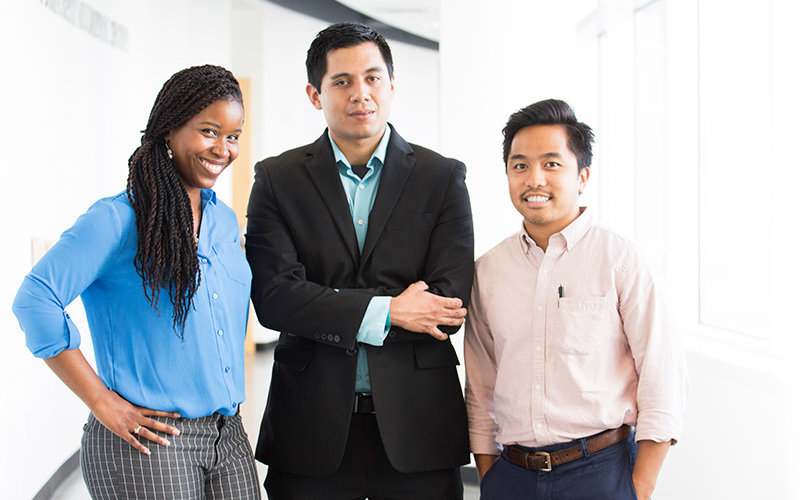 Cal State Fullerton is one of 96 institutions across the U.S. and Canada to receive INSIGHT Into Diversity's 2018 Higher Education Excellence in Diversity Award. Announced Sept. 13, the honorees will be featured in the magazine's November issue.
The HEED Award measures an institution's level of achievement and commitment to broadening diversity and inclusion through campus initiatives and programs, student recruitment and retention, and hiring practices for faculty and staff.
"The HEED Award has really has become the marker for a campus being serious about diversity and inclusion," said David Forgues, vice president for human resources, diversity and inclusion. "With this award, not only are we being recognized nationally for being champions for this work, but Cal State Fullerton becomes part of a club of institutions that are addressing diversity and inclusion in important ways."
Notably, in 2016 the university announced it had eliminated the achievement gap for underrepresented transfer students and halved the achievement gap for underrepresented freshmen students. These accomplishments gained the attention of Bobbie Porter in Nashville, Tennessee, who joined CSUF in January as assistant vice president for diversity, inclusion and equity.
Tasked with aligning campuswide efforts around diversity and inclusion, Porter's responsibilities include strategic planning, expanding the university's commitment to recruiting and retaining a high-quality and diverse faculty and staff, partnering with such campus groups as Diversity Initiatives and Resource Centers, and chairing the President's Commission on Equity and Inclusion.
"Cal State Fullerton is recognized in almost every other way around diversity and inclusion. We've been doing the work," said Porter, who received her M.P.A. from Tennessee State University and previously worked for such organizations as the Tennessee Board of Regents, Tennessee State University and the Tennessee Human Rights Commission.
"I'm really excited that with the HEED Award, we will be able to partner with other campuses across the nation and leverage our collective successes and best practices," she said.
Under the direction of Porter, HRDI and Academic Affairs recently launched a Faculty Diversity and Inclusion Fellows program in which faculty fellows from various academic colleges will help identify barriers to recruitment and retention of faculty from underrepresented groups and develop action plans to remedy such issues.