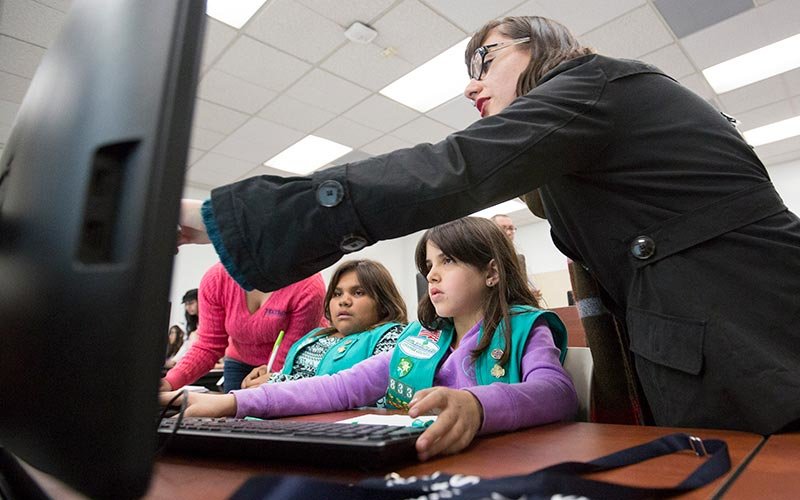 Cal State Fullerton programs that support females in STEM — teaching Girl Scouts computer coding, hosting an event for girls about careers in engineering and technology and giving female undergraduate students extra support — get a national nod from INSIGHT Into Diversity magazine.
The "Creative Coding," STEM Expo and Women in Computer Science and Engineering     initiatives, offered by the College of Engineering and Computer Science, have received the 2018 Inspiring Programs in STEM Award from the magazine, the largest and oldest diversity and inclusion publication in higher education.
The award honors colleges and universities that encourage and assist students from
underrepresented groups to enter the fields of science, technology, engineering and
mathematics (STEM). Cal State Fullerton is featured, along with 77 other recipients, in the
September issue of INSIGHT Into Diversity magazine.
"Through these outreach and mentorship programs, we foster a diverse and supportive pipeline for female students to choose STEM and graduate with degrees that empower them to move into industry careers," said Susan Barua, dean of the College of Engineering and Computer Science.
"These types of programs are vital since engineering and computer science fields
remain a male-dominated area — and often times, this drives away potential women engineers and computer scientists who desire to be a part of this industry."
The Inspiring Programs in STEM Award winners were selected based on efforts to inspire and encourage a new generation of young people to consider careers in STEM through mentoring, teaching, research, and successful programs and initiatives.
Doina Bein, assistant professor of computer science, and Beth Harnick-Shapiro, lecturer in
computer science, who serve as advisers to the Association for Computing Machinery-Women in Computing student club, lead the award-winning programs and activities. These include:
The student club partners with the Girl Scouts of Orange County to offer "Creative
Coding" to teach programming and robotics; and the STEM Expo, which features tours of science, engineering and computer science laboratories and activities, including live experiments and demonstrations. More than 500 Girl Scouts attended the 2017 event. The next STEM Expo is on Oct. 28. 
An annual Diversity and Leadership Summit provides support to engineering and computer science students as they transition from graduation to the workforce.
The Women in Computer Science and Engineering program, supported by the Dean's
Office, targets first-year and community college transfer students to offer industry tours, panel discussions with female industry professionals and career services.