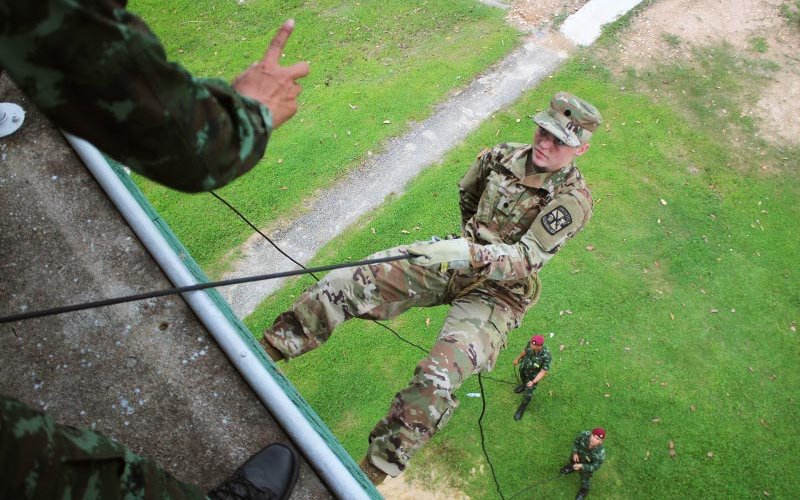 Last August, Sara Berlinger took a step beyond the dance studios where she's usually found. The junior dance major, one of 26 female cadets in Cal State Fullerton's ROTC program, recently returned from a three-week Cultural Understanding and Leadership Program in Thailand.
But she wasn't the only one who wore army fatigues this summer. Fellow cadet Sherin Tara, a senior nursing major, spent almost a month serving in the emergency room at Martin Army Community Hospital in Fort Benning, Georgia. And Hunter Stepp, a graduate student studying clinical psychology, went to Fort Knox, Kentucky.
Beyond the heat and humidity, Stepp remembers it being a great experience. As an undergraduate, she never considered joining ROTC — but because she's interested in studying post-traumatic stress, she joined in her senior year.
"It was definitely challenging," she explained. "I did a lot of things I never thought I'd do — like the high ropes course. And I'm scared of heights.
"I learned how much I was willing to do … how far I could go physically and mentally."
"I want to be a psychologist in the Army, so it was good to be out there with younger cadets. Helping them go through these challenging experiences reinforced my choice of career."
"I learned how much I was willing to do … how far I could go physically and mentally," she added. "I found that you are stronger than you think you are. It's just a matter of going out and doing it."
Tara took part in a 28-day Nurse Summer Training Program. If she hadn't been sure about her choice of nursing as a career, she is now after gaining more than 150 hours of clinical experience in the ER at Fort Benning.
"I had a blast. … I was paired with an Army nurse as my preceptor and she was with me the whole time and made sure I did everything safely." She set up IVs, took EKGs, talked to doctors under her care, was involved in assessing cases, triaging and assisting with patient discharges.  "When I started, I probably had set up 10 IVs in my life. At Fort Benning, I probably did that many in a day. "
"This was an immensely helpful experience, because my confidence level grew and I am now comfortable in the ER setting, which is the area where I want to work once I graduate in December. "
Berlinger traveled halfway around the world to spend four weeks with the Thai military cadet corps.
"It was a total immersion into the life and culture of the country and its military," she explained. Berlinger took part in drills and other exercises, as well as helped teach conversational English to Thai cadets.
"It was a good experience to interact and share thoughts on their cadet experiences, their lives and how the military operates (as part of the lessons)," she explained.  When not with the cadets, she had opportunities to visit local villages and temples, as well as interact with preschool teachers and young students who had never seen a foreigner. "It was an absolutely, wonderful experience."