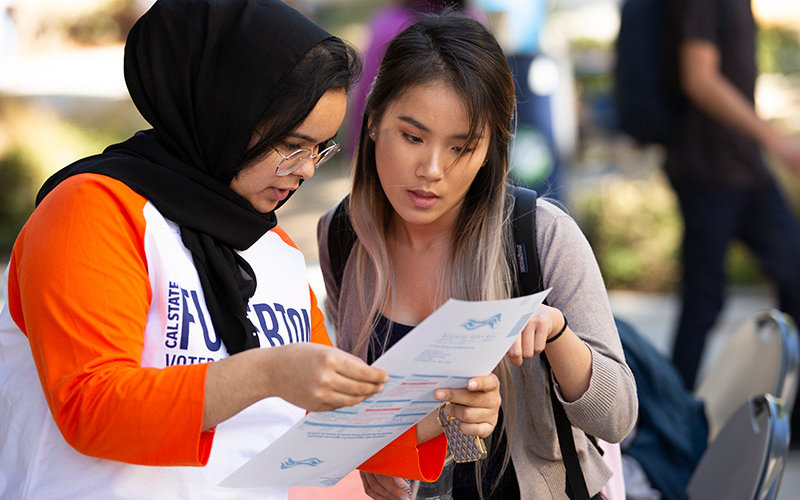 While some Titans have been working to ramp up voter registration across the Cal State Fullerton campus, others have been reaching out to youth voters in surrounding neighborhoods.
This semester, in a class called "Civic Engagement Through Asian American and Pacific Islander Studies," 20 students are partnering with the Korean Resource Center in Fullerton to register voters and educate citizens on key issues in the Nov. 6 election.
"The 10-week service-learning curriculum, which is part of a General Education lifelong learning and cultural diversity course, is an exciting opportunity for students to learn while serving and critically reflecting on their experiences," said Jennifer A. Yee, associate professor of Asian American studies and course instructor.
Vy Le, a senior Asian American studies major, is one such student who has been reaching out to young voters of color via phone, text and other methods to increase voter engagement in the midterm election.
"Phone banking is super effective because we get to talk to voters directly to inform them on candidates and policies," said Le, who aspires to work in a nonprofit related to community engagement and advocacy for marginalized communities. "We also offer voters resources, like where to access the voter's guide and where to find polling locations.
"Doing this kind of work allows me to reach out to young voters of color to let them know that our voices matter, and our votes can and will shape our communities and the people we care about," she added.
According to the Korean Resource Center, the students have contacted and had conversations with more than 1,000 voters across Orange County, and confirmed with over 700 people that they are going to vote in the Nov. 6 election.
"Only 8 percent of youth ages 18-24 voted in the 2014 primaries," said Rex Wang, youth organizer for the Korean Resource Center. "Statistically speaking, our parents and grandparents are more likely to vote than we are, but the issues that we vote on — climate change, education funding, affordable housing and health care — will directly impact us and future generations.
"We believe that the change in our community needs to be led by young people."
Another student in the class, Michael Gandara, agreed that youth can play a significant role in boosting voter engagement among their peers.
"I think that voter turnout among younger voters can go up, but only if there is a push by those who are around the same age to engage with them and learn what makes them not want to vote," said Gandara, a senior double majoring in American studies and Asian American studies.
With plans to pursue a master's degree in higher education, Gandara believes strong relationships between academia and community organizations create rich learning opportunities for students.
"Going to college can give us knowledge on important issues, but being actively engaged in local community issues and applying what we know from our classes is so important," he said.