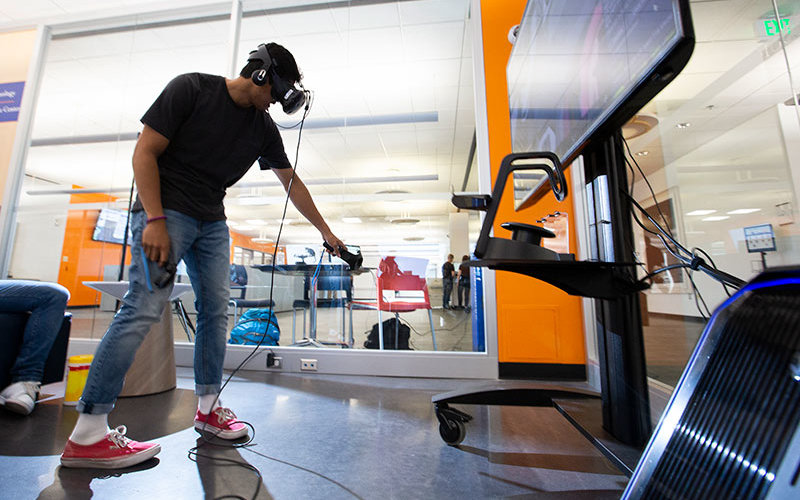 Artists, creators and visionaries go by the term makers these days. And Cal State Fullerton's makers have a new gathering place, on the second floor of Pollak Library. 
Inside the glass-walled room called The Innovation/Makerspace Center, students and faculty members can walk on the moon or examine a skeleton in virtual reality via an 80-inch television, augment reality with a special lenses, brainstorm with colleagues on a massive digital whiteboard, and build using a 3D printer. Others can design on an animation-friendly tablet or program and purchase a mini computer.
For students like Maribel Diaz, a senior art major focused on graphic and interactive design, the space offers access to high-tech equipment usually in constant use by students from the College of the Arts — equipment too costly for most students to purchase.
"This is really amazing to be able to expand our opportunities and to use the tablet here," Diaz said while shifting a lifelike digital red apple on the screen to view every side. "It's been hard for students to do their work on the classroom computers until later at night, after class. Now we can come here, during the day. I'm very grateful, but I wish it was available 24 hours a day."
Diaz and many students like her can reserve the equipment in two-hour intervals by visiting The Innovation/Makerspace Center's website or the Student Genius Center on the first floor of Pollak Library. The space, which opened in spring, is the vision of Amir Dabirian, vice president of information technology and chief information officer.  
"With rapidly changing technology that is immersed in all fields, our campus community needed a place where students and faculty can experiment with advanced technology," Dabirian said. "Innovation is a crucial part of education. With the Innovation/Makerspace Center, we are expanding the opportunity for CSUF students and faculty to support academic success in new and creative ways."
Information technology staff members are available to give students, faculty members and classes tours of the space and to assist the center's visitors. The room also is ideal for club meetings, and information gathered on the whiteboard can be emailed directly from the board to participants.
On a recent day, alumnus Ryan Okino '18 (B.F.A. art-entertainment art/animation) joined Diaz in the creative space, to continue working on his animation project. He'd like to see the equipment and availability grow.
Just 60 to 90 seconds of animation can take 45 two-hour shifts to produce, he said. Students building portfolios will want to use the center once word spreads, he added. "I wish there were more of a budget to get more industry-based equipment on campus like this for students."
For more information about The Innovation/Makerspace Center, faculty members may call 657-278-7777; students may call 657-278-8203.