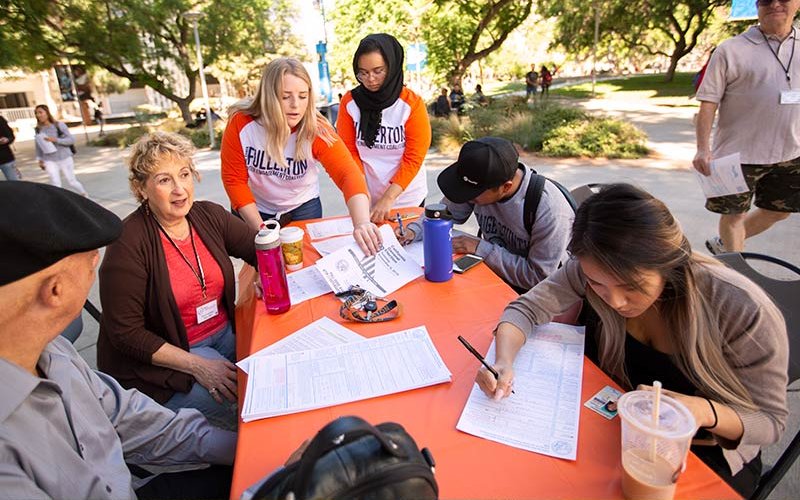 Mobilizing voters to participate in the Nov. 6 midterm election was the mission of several Cal State Fullerton campus groups, led by the Office of Government and Community Relations and Associated Students Inc.
New this year was the university's participation in a statewide Ballot Bowl competition, launched by California's secretary of state, lieutenant governor and a coalition of nonprofit organizations to increase civic engagement and voter registration among college students.
Students, faculty and staff members registered 2,627 voters for the competition — garnering the award for the California State University campus with the largest number of students registered. Fellow CSU, Cal Poly San Luis Obispo, was named the overall Ballot Bowl winner.
"Something I've heard time and time again this election season is how much it feels like a presidential election, despite it being the midterms," said Meghan Waymire, ASI chief governmental officer. "The entire campus community worked diligently to get over 2,600 students registered in just the first nine weeks of school. I think it is definitely clear that students demand to be heard and represented by their elected officials."
The university also hosted a series of voter registration and education events in September and October, including a faculty voter registration drive, three on-campus candidate forums, a midterm election panel discussion and a ballot proposition workshop led by CSUF political science and history experts.
Beyond the campus, in a general education civic engagement class, 20 students reached out to more than 1,000 youth voters of color in Orange County to encourage them to vote in the election.
"As voters, we have a voice in determining our future," said CSUF President Fram Virjee in a campuswide email on Nov 6. "And as Titans, we have a responsibility to wield the power of that voice in our classrooms and around our communities."