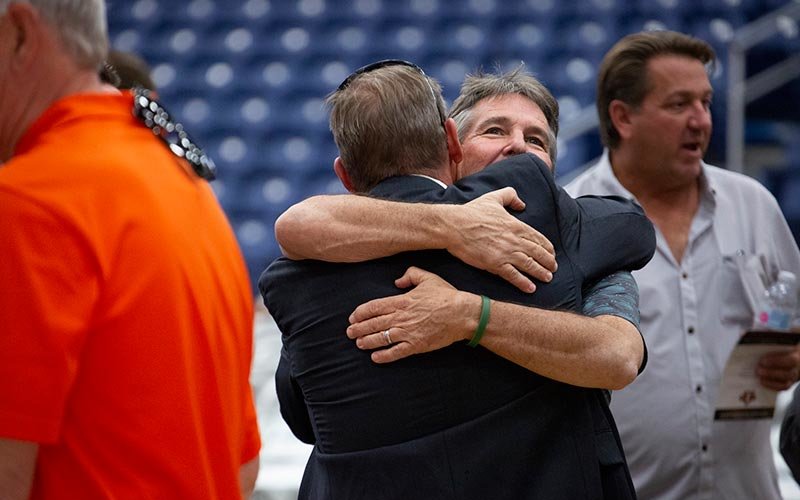 Thank you, Skip.
 It was a theme that resonated throughout Titan Gym as speaker after speaker told tales about the late Augie Garrido and his storied college baseball career that had its beginning right here at Cal State Fullerton.
 Cal State Fullerton and the Titan Athletics Department held a "Celebration of Life" event honoring the legendary Titan baseball head coach on Nov. 9. In 1973, Garrido took over a startup Division 1 team that went on to win three national titles under his careful watch and paved the way for it to become one of the top programs in the country.
And just like he did for many of those seasons, he filled the seats inside the gym for the "Celebration of Life" event with his fans — family, friends, current and former Titan baseball players, major leaguers and members of the campus community that had watched his teams every spring hoping that this year they would win the College World Series.
Mark Kotsay, one of three Garrido-coached Titans to win the Golden Spikes Award as college baseball's player of the year (and later a 17-year major leaguer), recalled Garrido's life lessons to his players.
"He taught us about failure; he taught us about life," Kotsay shared with the gathering. "Our lives are better because of what he taught us. It becomes our responsibility to pass on his messages. Let's celebrate this amazing man and honor his legacy forever." 
Garrido died in March, at the age of 79, two weeks after suffering a stroke. A memorial service was held in Austin, where he completed his career with 20 seasons at University of Texas and won two of his five national championships.
His first three national championships (1979, 1984, 1995) were won by Titans.
He left behind an incredible record and legacy. In 48 seasons, he amassed a career record of 1,975-951-9 and coached dozens of players that went on to play in the MLB including Kotsay, Phil Nevin and Tim Wallach who all were on hand to pay their respects to their mentor. Garrido is the second most winningest coach in college baseball history. 
Garrido was the head coach at CSUF twice, 1973-87 and 1991-96. George Horton and Rick Vanderhook were two of the coaches that took over the programs after Garrido. 
"I am honored," said Vanderhook, the current coach, during the service, "to be the coach of the program he built."
Horton summed up Garrido's legacy.
"We weren't built on fancy things," said Horton, now Oregon's coach. "It was truly the culture that Augie built and the philosophy of being a part of something really special."