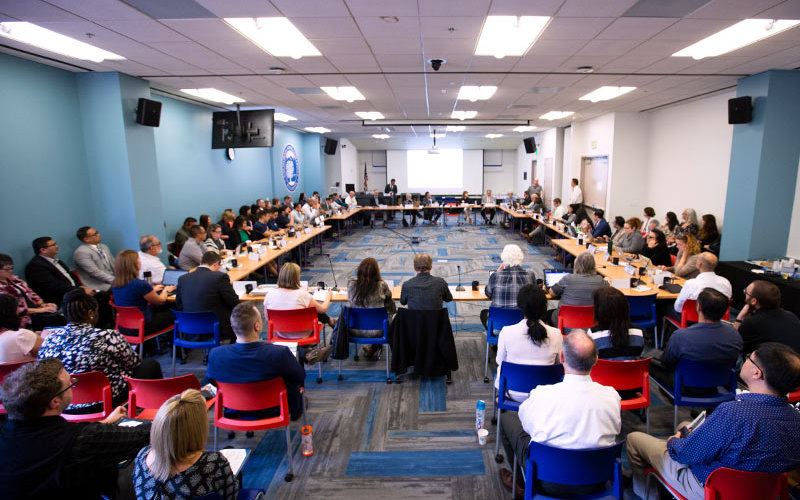 Cal State Fullerton's Academic Senate and audience members rose to their feet and gave a standing ovation following the official rollout of the new 2018-2023 Strategic Plan during today's (Nov. 15) Academic Senate meeting.
Various members of the Strategic Planning Steering Committee reviewed the mission, values and four goals of the new plan.
"It is so exciting and gratifying to be here at this moment," said Mary Ann Villarreal, associate vice president for strategic initiatives. "We came together on Oct. 3, 2017, and had no idea that it would not be until Nov. 15 that we would be able to present this report to you and the campus community," she noted.
President Fram Virjee stressed the efforts made to create the strategic plan as a collaborative effort. The committee met with more than 200 different campus groups and in town hall meetings. Such efforts led to the emergence of a draft plan, "but we weren't done with gathering input and we received more robust responses and more feedback.
"We knew we needed to dig deeper and we did exactly that," Virjee continued, noting that the committee, which covered the breadth of the campus and included faculty, staff, administrators and students, worked hard to bring to fruition this plan, these values, this mission.
"This is not a laundry list of what we do well, it's not a laundry list of what we don't do well and it's certainly not everything that we're going to be doing" over the next five years, Virjee stressed.
It is, he noted, a coalition of areas where "we want to emphasize our focus and commitment over the next five years."
That, he noted, begins in the plan's mission statement, which Virjee noted is a concise 58 words:
California State University, Fullerton, enriches the lives of students and inspires them to thrive in a global environment. We cultivate lifelong habits of scholarly inquiry, critical and creative thinking, dynamic inclusivity, and social responsibility. Rooted in the strength of our diversity and immersive experiences, we embolden Titans to become intellectual, community, and economic leaders who shape the future.
The plan continues with seven values that include student success; scholarly and creative activities: diversity, equity and inclusion; civic engagement; collegial governance; integrity; and service to the region.
Then came the plan's four goals:
Our Commitment to a Transformational Titan Experience
Our Commitment to Student Success and Completion
Our Commitment to Faculty and Staff Diversity and Success 
Our Commitment to Our Learning Environment and Legacy
Each goal, its objectives and strategies are listed on the Strategic Plan website. 
I hope that you feel empowered, Virjee said. "This is not the president's plan, not administration, the Academic Senate or Associated Students Inc. — it's everyone's plan."
"We are collaborative, collective partners in this plan," he stressed. "It is audacious. … but it is achievable. Every day, let's get out there and make this happen."