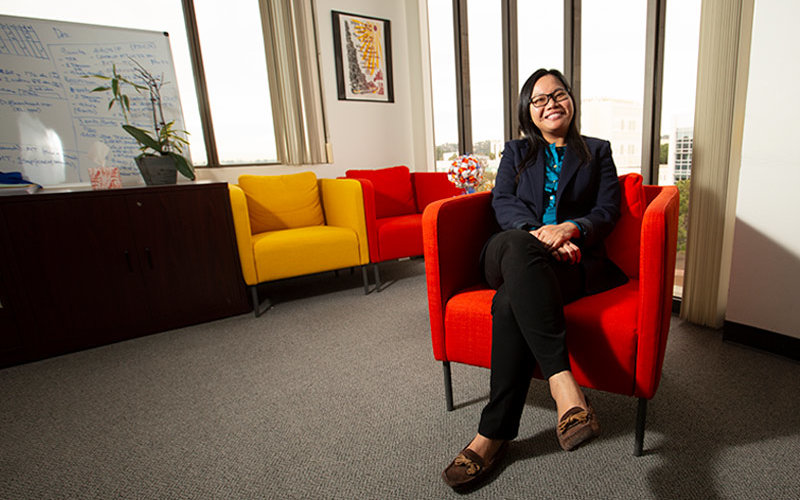 Under the direction of educator Natalie Tran, Cal State Fullerton's National Resource Center for Asian Languages, known as NRCAL, focuses on improving the teaching, learning and research of Asian languages in Orange County — and beyond.
The center's work has included developing linguistically and culturally responsive literature and instructional materials, effective pedagogies and assessment tools that integrate community resources, and technology. The center also has provided training and resources for pre-K-12 teachers and post-secondary language instructors, and created a network that supports teachers and learners through conferences and summer intensive institutes.
"The goal is to strengthen multiliteracy and multiculturalism in our schools," said Tran, chair of secondary education and professor of educational leadership.
To build on the accomplishments and continue the center's work, the U.S. Department of Education has awarded CSUF a four-year, $684,000 grant, with first-year funding of $171,000 awarded this year. In 2014, CSUF was awarded a $709,564 grant to establish the center, housed in the College of Education, and one of 16 language resource centers in the country.
"The center's efforts are to improve the nation's capacity for the teaching and learning of Asian languages including Vietnamese, Korean, Chinese, Japanese and Khmer, also known as  Cambodian, a newly added language to NRCAL," Tran said.
The new grant will support the development of instructional resources and professional development activities to promote and enhance these less commonly taught languages in the United States, she added.
"Training students to be biliterate in Vietnamese, Chinese, Japanese, Korean and Khmer not only enhances their cognition, employment opportunities and cultural competency, but also improves national business development, innovation and security," said Tran, whose heritage language is Vietnamese, and as a child, fled her native Vietnam with her mother.
Through the work of education faculty members Vikki Costa and Grace Cho, a bilingual authorization program in Vietnamese, teaching pathways in Vietnamese, Korean and Chinese and a minor in Vietnamese have been developed and are now being offered at CSUF.
NRCAL also has forged partnerships with Orange County school districts, as well as districts in Washington and Texas to support their efforts to develop dual-language immersion programs and provide professional development for teachers.
Tran was instrumental in providing support to identify instructional materials and resources for Westminster School District and Garden Grove Unified School District — among the first to offer Vietnamese dual-language immersion programs in the county. Expanding on this work, Tran plans to collaborate with other school districts in the state to launch their first English-Vietnamese and English-Korean programs.