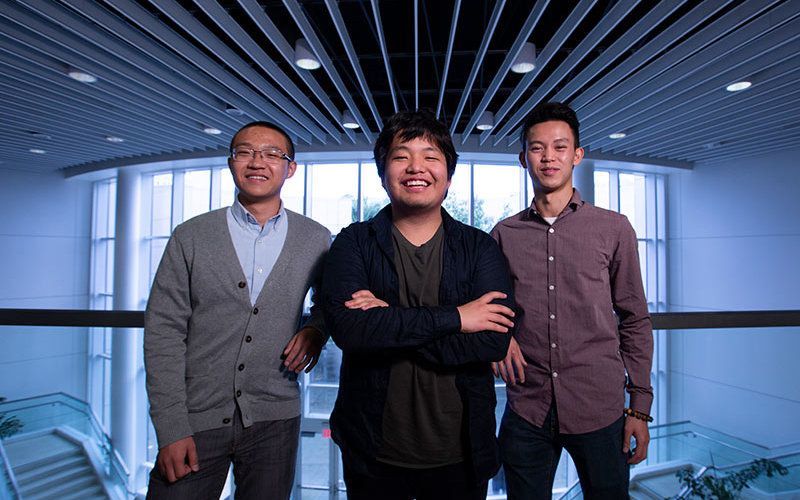 Four Cal State Fullerton students are tackling some pretty big issues this year: How to encourage more student engagement, increase the use of innovation in students' lives and encourage entrepreneurship?
"College is definitely not just taking classes," said Bing (Edward) Niu. "It's being involved and engaged with your fellow students."
Engagement is the key operative word for Niu, a junior business administration major, and three other Titans who were recently named University Innovation Fellows (UIF), part of an international program established to empower students to become agents of change, to encourage and engage their peers with innovation, entrepreneurship, design thinking and creativity.
Joining Niu are William Kim, a junior biological science major; and fellow business administration majors Kritvik (Karen) Kaur and Phillip Law. The foursome are among 358 students from 96 higher education institutions in 16 countries to be named to the 2018 class of University Innovations Fellows.
"Our goal is to expand student awareness of what is happening on campus and to encourage more involvement," Niu explained.
The Titan fellows, all members of the campus Student Innovation Collective (SINC),  will be encouraging their fellow students to integrate innovation into their school projects and club activities, particularly promoting the availability of the recently opened Innovation/Makerspace Center on the second floor of the Pollak Library.
And they are promoting the value of using design thinking, a solution-based approach that attempts to inspire use of creativity, collaboration and innovation to create an improved future result. Design Thinking stages or phases are: empathize with users/clients; define needs, the problem and insights; ideate or challenge assumptions and create ideas for innovative solutions; prototype possible solutions; and test those solutions.
"The design thinking methodology is a topic I became familiar with through SINC, and it was a topic that interested me," said Kaur, who also is a member of  the Indian Student Association and the University and Business honors programs. "Learning more about the methodology has affected the way I think about problems, including day-to-day issues."
As a budding scientist with goals of becoming a researcher or a doctor, Kim saw the fellowship as an opportunity to "expand and develop my critical thinking skills. I also wanted to step out of my comfort zone and learn how I can solve problems more effectively."
Law agreed. "As a business student, I'm excited to be able to help 'spread the word' about design thinking as a means of designing solutions to problems we face as students and future professionals."
"I want to help other students achieve success," added Kim. "Both academically and personally!"
The University Innovation Fellows Program is housed at Stanford University's Hasso Plattner Institute of Design. Since its inception in 2012, more than 1,800 students have taken part in the program.
Fellows are sponsored by faculty and administrators as individuals or teams of students, and selected through an application process each year. Following acceptance into the program, participating students go through six weeks of online training and travel to one of two in-person meet ups to continue their projects and skill building.
Related Stories:
Titans Share Their Campus Innovation Efforts 
Innovation Fellows to Lead Design Thinking Workshops