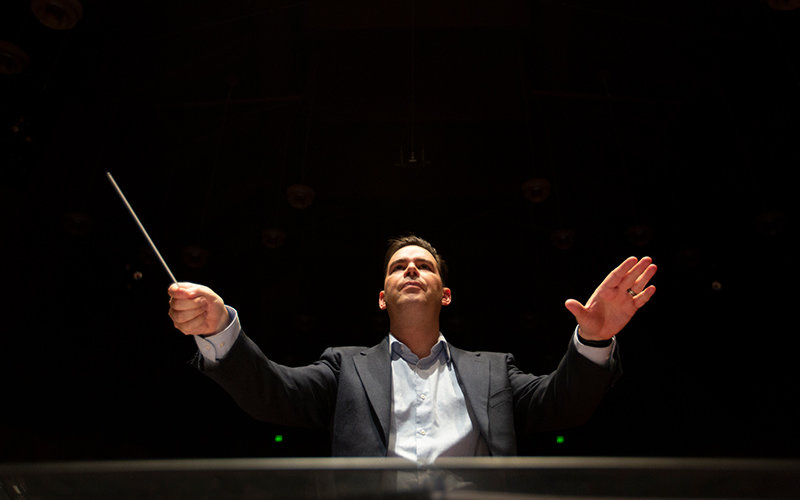 Ask Dustin Barr how he teaches conducting, and he'll tell you it may all begin with a nursery rhyme. Admittedly, it's a departure from how the art of directing a musical performance is traditionally taught.
"Most often conducting is taught by passing out music and teaching conductors: 'this is the pattern that you make with your arm or your baton when you're in four-four (four quarter notes),'" explains the assistant professor of music, who teaches conducting and directs the University Wind Symphony and Symphonic Winds. "That process, I believe, becomes very eye-driven. You see something on the paper and that's how you move."
Barr takes that away and makes the process more ear-driven than eye-driven. "Instead of conducting notated music, we're conducting nursery rhymes — or at least the text and pitches to the nursery rhymes, but with a much freer approach to rhythm."
What that does, adds the Cal State Fullerton alumnus, is hold the conductor responsible because the person responding to the motion is not reading music, but rather focusing solely on following the conductor's movements. "How much a note grows or fades, how hard or softly it's struck — every single possibility for that sound, the conductor has to show."
Barr explains not only what one's hands do but also how one's whole body is involved in that process of communication — "how being aware of how you're balancing, even all the way down to your feet, may send subtle cues to an observer that may cause them to reject some of the signals that you're trying to send with your hands."
That is the premise of his book "Expressive Conducting: Movement and Performance Theory for Conductors," co-authored with Jerald Schwiebert.
"It is an unusual text on conducting pedagogy. Nowhere in the text will you find anything about how to conduct a beat pattern," explains Barr, also the university's director of bands. "It's more of an examination of the entire body's ability to communicate while conducting. It borrows from insights from the theater, actor training, tai chi, illustrators … It essentially asks the question, why are some conductors compelling and others are not even when they may be doing approximately the same thing with their hands or with their baton?
"We tend to view one part of the body as being directly involved in a task, while other parts are held still subconsciously," he adds. "It's the holding still of the body that restricts the communication process between the conductor and an ensemble."
While a graduate student at Cal State Fullerton studying under professor of music Mitch Fennell, Barr was already influenced by the person with whom he'd write the book later in life. Fennell had received a grant to study with Schwiebert, then a theater professor at the University of Michigan, "who really made a career out of understanding what makes compelling movement," says Barr.
Schwiebert was one of the reasons why Barr chose the University of Michigan to pursue his doctoral studies, and approached him about writing the book together. "He felt he needed someone to translate some of his ideas into the conducting realm, in a way that is very accessible to conducting students."
Teaching Titans the fine art of conducting, he adds, is something dear to his heart.
"It's a population I know," he says. "I relate to them so closely. Like many of the students I teach, I'm a first-generation college student. I understand their struggles and how expensive it is to live in Southern California and manage work and school. Without Cal State Fullerton, I would not be where I am today. Giving back through my own teaching is one of the great joys of my life and career."