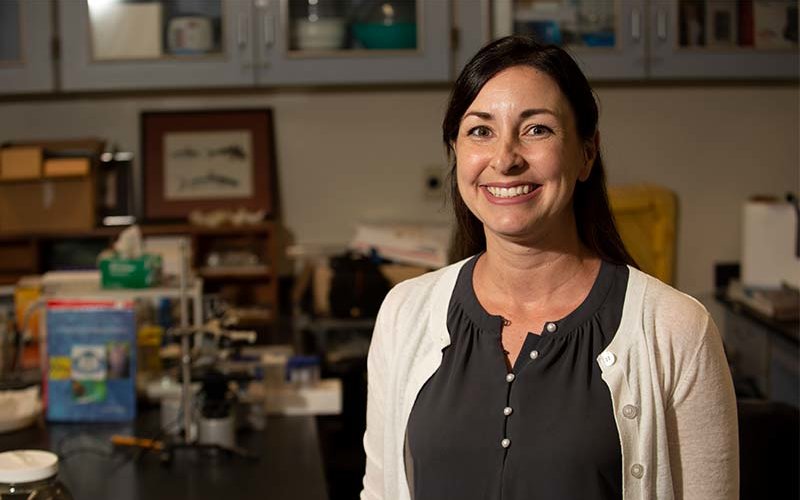 Inside and outside the lab of marine biologist Misty Paig-Tran, she and student researchers are conducting transformative biomechanics research — the study of blending biology and engineering to answer how marine organisms function and interact with the environment.
How bus-sized whale sharks filter-feed and how tiny sand crabs create quicksand when burying in sand are among projects the researchers are tackling. One of her graduate students is studying how the armor of small catfish can withstand piranha bites. Other scholars are examining the effects of microplastics on commercially important food fishes and how 3,000-pound walruses use their teeth to haul themselves out of the water onto floating sea ice.
Most recently, Paig-Tran and graduate student Raj Divi discovered a unique, non-clogging filtration system in manta rays that they coined "ricochet separation." The groundbreaking study has lead to a prestigious journal paper, worldwide news coverage and a patent pending.
Paig-Tran's research looks to nature for bio-inspiration. She uses an integrative approach that combines engineering and physics techniques to study the biology of marine organisms to create bio-inspired applications.
"When you want to build things better and more efficiently, my motto is look to nature. Chances are, something is doing what you aim to create," said Paig-Tran, assistant professor of biological science.
For her advances in the field of marine biomechanics, Paig-Tran has received the 2019 Carl Gans Award from the Society for Integrative and Comparative Biology — one of the society's highest honors given to outstanding young investigators. The national award recognizes Gans' scientific career and contributions to animal morphology, biomechanics and functional biology.
Winning the award is special for Paig-Tran because it acknowledges distinguished contributions of comparative biomechanists: "Carl Gans was a gifted scientist with a wonderful collaborative spirit. It's a great honor to be mentioned in the same breath," she said.
Kathryn Dickson, CSUF professor of biological science, nominated the scientist for the award, with letters of support from her doctoral thesis adviser Adam Summers of the University of Washington-Friday Harbor Laboratories and Lara Ferry of Arizona State University, her postdoctoral mentor.
Dickson, who has been Paig-Tran's mentor since she joined CSUF in 2014, noted that the impressive researcher and educator is deserving of the award because of her "curiosity, creativity, tenacity, scientific focus and amazing ability to accomplish something worthwhile by tapping into a network of resources."
"Dr. Dickson and all of my mentors here at CSUF, and throughout my career, have been amazing," Paig-Tran said. "I strive to be the type of mentor that these faculty have been for me. No one succeeds by themselves, and I feel like I can directly trace all of my successes back to the people who took the time to really show me the path."
Paig-Tran is the author of 10 peer-reviewed papers. She holds a doctorate from the University of Washington and a bachelor's degree from Cal State Long Beach, both in biology.