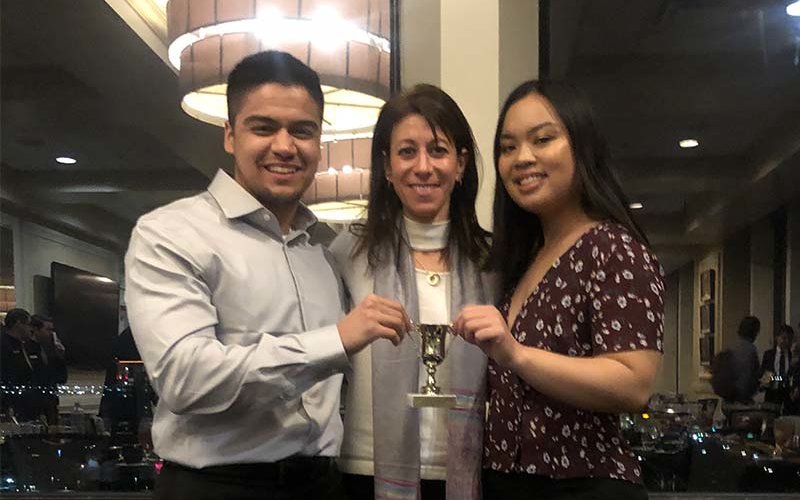 Cal State Fullerton students placed among the nation's top 80 teams for writing and oral arguments at the 2019 American Moot Court Association National Tournament Jan. 12-13 in Orlando, Florida.
Six students received National Brief Writing Championship awards, from among 250 briefs submitted for review, including Julian Pina and Vivian Tran, second place; Samantha Brown and Rebecca Lang, fifth place; and Marisol Alvarez and Vincent Huynh, eighth place.
Tran, a senior criminal justice major who aspires to become a prosecutor, wrote about the Equal Protection Clause of the 14th Amendment, defending a hypothetical case in which a law school's affirmative action program placed preferential weight toward male applicants.
"Winning this award means so much to me," said Tran. "I can't help but remember how in my first year of college, I didn't have many goals. This win reminds me of the growth I have made as a person and just how much the Moot Court program has changed my life for the better.
"Through Moot Court, I was constantly challenged to improve as a speaker, writer and person," she added. "Digging through case law to help create a unique and sound argument, I have dedicated more time and effort to this program compared to anything else I have done. As a result, I have gained skills that will help me in pursuing a career in the legal field."
Pina, a senior majoring in sociology, wrote a brief arguing that a fictional public university did not violate the First Amendment rights of one of its part-time lecturers when it terminated her for her disruptive speech.
"Being a member of Cal State Fullerton's Moot Court team for the past two years is the greatest academic decision I have ever made," he said. "This program has helped me develop oral presentation skills, legal analysis skills and writing skills that will prepare me for law school in a manner that no other program or class could do."
Students Rana Salem and Claire Jenkins were among 36 teams to advance to the elimination rounds for their oral arguments. The pair placed second overall at the Western Regional Moot Court Competition in November, qualifying them for the national competition.