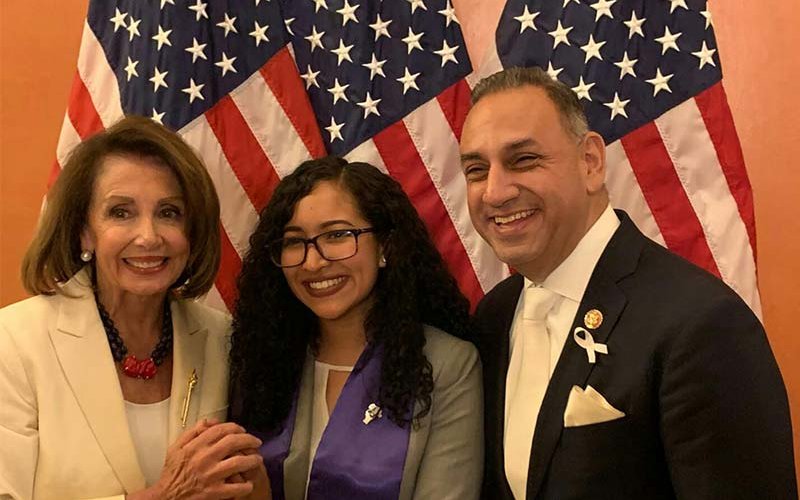 Miriam Tellez, a sociology major who plans to graduate in May, recently had an experience she won't soon forget. Brought to the United States from Mexico when she was eight years old, Tellez is a Dreamer — one of thousands of undocumented residents who arrived in America as children. Last week, this Dreamer attended the State of the Union address, as the guest of U.S. Rep. Gil Cisneros (D-39th).
"I was truly awestruck," she said when she took her seat in the U.S. House of Representatives chamber. "To sit there, among members of the governing body of the United States, was something I never dreamed could happen. However, I saw this as an opportunity to share and continue to live my experience as an undocumented and resilient immigrant."
She met Nancy Pelosi and Alexandria Ocasio-Cortez at receptions beforehand.
"I was nervous about meeting Nancy Pelosi," she said. "And this might sound funny but it's like she looked into my soul. She saw me. She held my hand so tenderly. She seemed so familiar that soon I wasn't nervous.
"She said, 'I know who you are and I'm happy you're here. We're fighting for you.'"
When she first saw Ocasio-Cortez walk across the room in her white suit, Tellez thought it was magical. Ocasio-Cortez told Tellez, "You belong here. We're going to continue to push for you."
"When I first arrived in the room, it felt like I was walking into history. It was stunning to think of the generations of people who have sat there. The guests sat up in the gallery so we had a bird's-eye view down below."
Tellez remembers seeing "an amazing sea of white" — Congresswomen dressed in white in honor of the suffragettes. Many of the men wore white pins or ties to show their support.
And then the president arrived.
"You could feel a stir and I remember saying, 'Brace yourself. You don't know what's coming. We had heard from the media that he was going to call for unity and cooperation, and I remember thinking, 'Ooof, how am I going to react?'
"It's kind of funny because when the president talks and says things I don't agree with, I just walk away but it's a very different experience when you're right there.
"I appreciated some of his remarks about choosing the nation over political parties, acknowledging the accomplishments of women in history. Introducing some of the guests — they had great stories.
"When he talked about immigration, he said he'd like to see more legal immigration. And he also pointed out a family who lost a family member to an undocumented person. … He's making the nation's safety and immigration one issue. It's not. They are two separate issues. He said that legal immigrants make the nation great. So do undocumented immigrants. And if you want more legal immigration, what's your plan to achieve that?"
Tellez was disappointed that there was very little mention of why many people, such as those in the caravans, try to enter the United States.
"These are people fleeing for their safety. We need to understand their very real fears and renovate the asylum process. I'm hopeful that this new Congress can rise above the president's anti-immigrant rhetoric and put forward a permanent fix for those protected by DACA."
Being a Dreamer influenced Tellez's choice of major.
"I originally wanted to major in international business because there was always the fear of being deported," she said. "However, after spending time in the Titan Dreamers' Resource Center, I began to think about inequality and how society affects people. That's when I changed my major to sociology because I wanted a bigger lens to look at communities and the world, to understand situations, why they were happening and what the impacts are.
"I want to look at community organizations and see what more I can do to help undocumented immigrants. I want to use the platform I've been given to help others.
"I want to encourage every other Dreamer or undocumented person. For those who are struggling, I want them to know anything's possible. We'll be all right if we come together, get educated together, make things happen together."