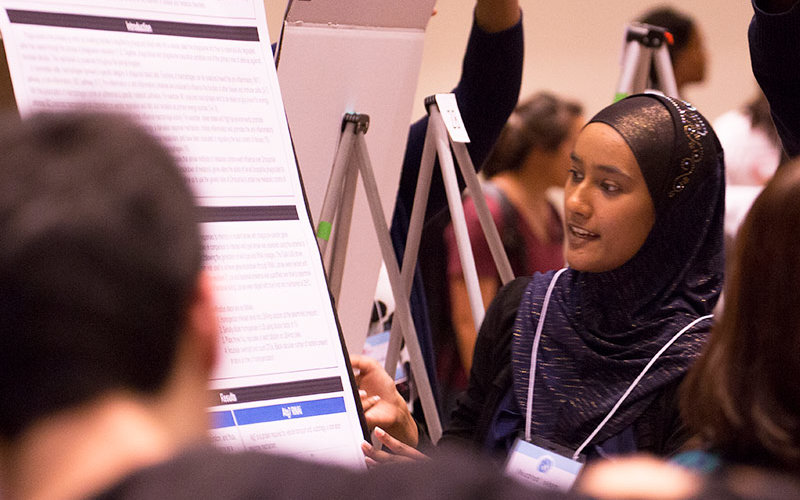 Campus members are invited to celebrate the research and creative achievements of CSUF students Wednesday, March 20, during the Student Research and Creative Activity Day.
The 11 a.m. to 1:30 p.m. program will include poster presentations and exhibits by both graduate and undergraduate students, followed by an awards presentation.
This year's Outstanding Student Scholarly and Creative Activities Award recipients and their faculty mentors are, by college:
College of the Arts
Undergraduate — Shirley Chikukwa, music
Mentor: Katherine Reed
Graduate — David Oh, visual arts
Mentor: Chen Wang
College of Communications
Undergraduate — San Pham, communication science and disorders
Mentor: HyeKyeung Seung 
College of Education
Doctoral — Ashley Cheri, educational leadership
Mentors: Jennifer A. Yee and Eugene M. Fujimoto
College of Engineering and Computer Science
Undergraduate — Raksha Raghavan, computer engineering
Mentor: Rakeshkumar Mahto
Undergraduate — Mohammadreza Heydary, computer science
Mentor: Anand Panangadan
Graduate — Chandana (Rami) Edirisinghe, mechanical engineering
Mentor: Salvador Mayoral
College of Health and Human Development
Undergraduate — Shayna La Scala, human services
Mentor: Yuying Tsong
Graduate — Kara Lazauskas, kinesiology
Mentor: Andrew Galpin
College of Humanities and Social Sciences
Graduate — Marco Moreno, anthropology
Mentor: Karen Stocker
College of Natural Sciences and Mathematics
Undergraduate — Jasmine Martinez, biological science
Mentor: Maria Soledad Ramirez
Graduate — Cullen Scheland, geological sciences
Mentor: Valbone Memeti
Mihaylo College of Business and Economics
Undergraduate — Marcel Jacquot, finance
Mentor: Arsenio Staer
Graduate — Kenny Le, information systems and decision sciences
Mentor: Sinjini Mitra
Three Outstanding Poster/Exhibit awards also will be given during the awards presentation.
The festivities will be held in Portola Pavilion of the Titan Student Union. For more information, contact Terri Patchen, 657-278-2034, or Nathalie Carrick, 657-278-5593.