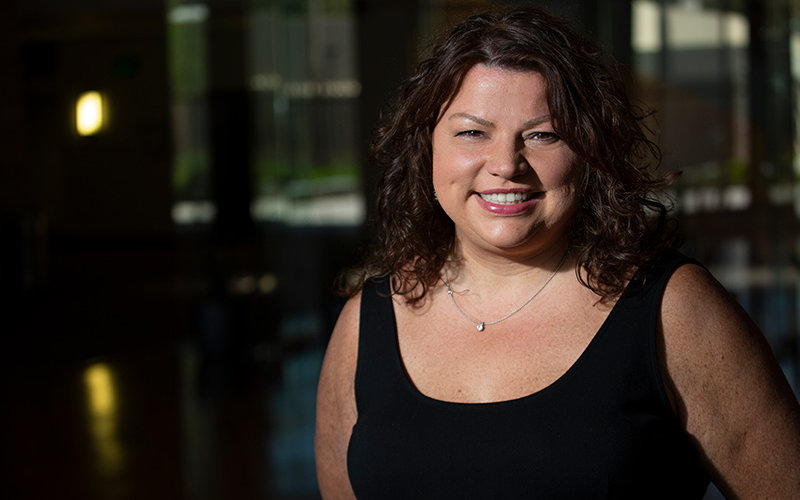 Tanya Michnevich Bracco '95 (B.A. theatre arts) was working in CSUF's costume shop when Abel Zeballos, now professor emeritus of theatre and dance, shared that communications students needed help with set building, costumes and special effects for student films.
"We went on to make and produce several shorts that led to working on projects with other schools. Those jobs led to music videos, commercials and films," explains the executive in charge of production and supervising producer of "The Late Show With Stephen Colbert."
"That one opportunity took me in the direction I wanted."
WHAT INSPIRED YOU TO PURSUE THEATRE ARTS?
I was immediately drawn to the fact that as part of CSUF's program, you didn't have to take acting, directing or dance. I chose TV production and design. They make every student work on a minimum of eight plays so that by the time you graduate, you have worked in several different roles. That made it a fun and rich learning experience because you were making connections with fellow students in a way that you wouldn't normally get in regular classes.
WHAT EXPERIENCES PREPARED YOU FOR THE WORKFORCE?
One was an internship at the Discovery Channel, when it was one channel and all documentaries; I worked on a documentary series. The second one was as an intern and second assistant to the president of Paramount Network Television, Garry Hart (now chair of the Department of Television and Cinema Arts in the College of Communications). I call those two years at Garry's office my graduate school years because I was able to learn everything about television, from development to production to post-production, and then rolling out the show.
AND THEN "LATE NIGHT …"
When we started "The Late Show With Stephen Colbert" we had to renovate the Ed Sullivan Theater and basically install our show. That's when I realized, oh my gosh, I have a theater degree and am working in a Broadway theater. I was a TV production emphasis and am supervising producer of a late-night TV show that I'm personally very proud of. I helped with almost every aspect of the design, from the inception to the implementation. How did I end up actually doing everything I studied?
HOW DOES A DAY IN THE LIFE OF A SUPERVISING PRODUCER UNFOLD?
I basically oversee the physical production and operation of the show. I help create the infrastructure so that an idea, a thought, a script can be thought of in the morning, produced at a rapid speed during the day, taped at 5:30 p.m. and delivered by the end of the day. That involves field shoots, roll-in pieces in the show, footage and graphics, as well as the actual production of the show — the monologue, talent segments, music, special comedy bits and acts. I collaborate with different departments and am a liaison between the staff, the crew and the network.
LESSONS ALONG THE WAY?
Working hard, having a great attitude and being a step ahead of the job's needs are important, coupled with trying to find a job you enjoy that uses your strengths so you're not fighting yourself every day. In my case, it's to socialize, liaise and produce. I would be a horrible editor if I had to be in a room all day. An editor or other people would have a heart attack if they had to do my job, but they thrive in a room where they can craft something beautiful. What kind of superhero team would we be if we all had the same powers?