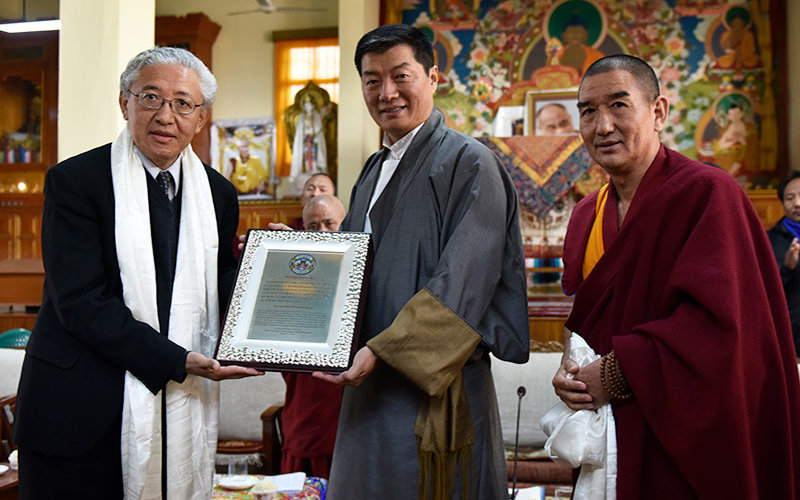 With his quiet, unassuming manner, it's easy to forget that Tenzin Dorjee, associate professor of human communication studies, is a key player in recommending U.S. policy on religious freedom, regularly mixing with heads of state, prominent religious leaders, senior government officials and members of Congress.
And that's just what he does in his spare time, as a volunteer.
Appointed by Speaker of the House Nancy Pelosi (D-CA), Dorjee is a commissioner and chair of the U.S. Commission on International Religious Freedom. USCIRF is an independent, bipartisan government commission that monitors religious freedom abroad; counsels on policy matters; and serves as a resource for Congress, the media and organizations like the United Nations. As the first Tibetan-born commissioner, Dorjee is particularly passionate about religious freedom there.
Despite his extensive work with USCIRF, Dorjee primarily views himself as an academic. His teaching and research interests at Cal State Fullerton center on intergroup, intercultural and intergenerational communication; identity issues; and peacebuilding and conflict resolution.
His volunteer work informs his teaching, giving students a unique window into the variety of conflict styles and management strategies he deals with as a commissioner.
Dorjee also believes that his personal story helps him connect with and encourage CSUF students.
"I grew up as a Tibetan refugee in India," he explains. "I was educated and worked there as a first-generation immigrant. I can relate to our many first-generation students pursuing their dreams, and if I did it, they too can. 'Never Give Up' was the theme of my commencement speech as the 2017 distinguished faculty marshall of the College of Communications."
Dorjee's path from Tibet to Southern California was not necessarily a straight line. "You don't know how your life will change," he advises students. "Expand your knowledge so when an opportunity presents, you are capable of taking it on. I was ready."
The work that stemmed from that readiness was recently recognized by the Tibetan Parliament in Exile in Dharamshala, India. In addition, the Central Tibetan Administration (the Tibetan government in exile not recognized by China), Institute of Buddhist Dialectics and College for Higher Tibetan Studies honored Dorjee with their "Three Wheel Recognition Award" for outstanding contributions to international religious freedom and the preservation of Tibetan religion, language, culture and freedom.