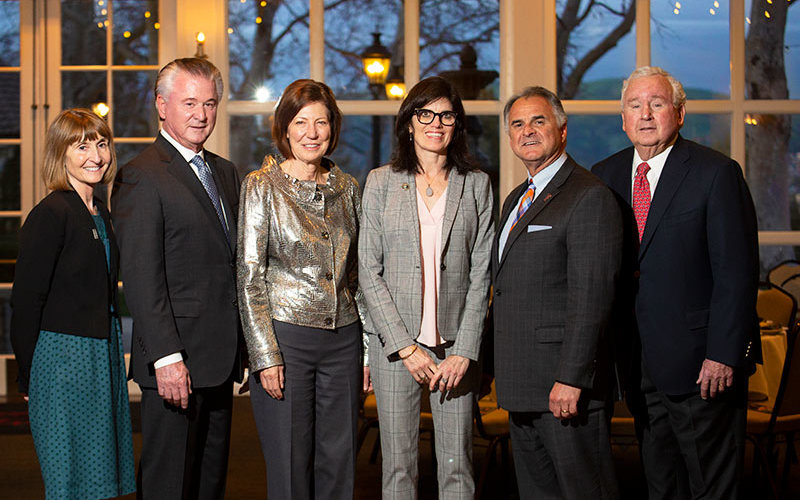 Community and political leaders joined members of the campus community in celebrating the lives and oral histories of three county giants during the March 7 "Celebrating the Legacy of Orange County's Political History" event hosted by Cal State Fullerton's Lawrence de Graaf Center for Oral and Public History.
The honorees were Brad Gates, former Orange County sheriff-coroner who served the county for 38 years, including 24 years as the head of the sheriff's department; Sandra Hutchens, who became the county's 12th sheriff-coroner in 2009 and served in law enforcement for nearly 40 years; and the late Richard J. "Dick" O'Neill, a descendant from prominent California landowners who became a co-founder of the Democratic Foundation of Orange County and a state Democratic Party chairman.
CSUF President Fram Virjee thanked the honorees for their service to Orange County and talked about the importance of collecting these oral histories.
"Due to the impact our university has on this region, I often say 'We are the future of Orange County,'" said Virjee. "But in light of this event and our role in it, maybe I should begin adding that we are also the history of Orange County.
"Tonight, we build upon that legacy by not only celebrating three outstanding Orange County political leaders, but also recognizing the significance their oral histories play in both our understanding of our past and our hope for a brighter future."
In accepting the accolades and honors on behalf of Brad Gates who wasn't able to attend, Gary Hausdorfer, former mayor of the city of San Juan Capistrano, called Gates "a humble man … who was all about moving Orange County forward. He took the department from being a relatively small department to being a major law enforcement institution."
Tony Moiso, chairman and chief executive officer of Rancho Mission Viejo, remembered his 'Uncle Richard' fondly, noting that he was a "kind, special guy" whose humor and style of dress were truly unique — to laughter and nods of agreement from audience members who had known O'Neill, including CSUF alumnus and Santa Ana Mayor Miguel Pulido.
O'Neill, Moiso explained, "truly cared, truly put his money where his mouth was in actively forging the Democratic Party and a two-party system in Orange County. He was proud to be a part of that effort."
Hutchens tied the three honorees together explaining that she met Gates while serving as the Los Angeles County Sheriff's Department legislative liaison. "That was when I learned what an influence Brad Gates was … and he was the one who introduced me to Tony Moiso. Both men supported me when I ran for sheriff.
"I am truly honored to be recognized with Brad Gates and Richard O'Neill," she added. "It is an honor to be a part of the Center for Oral and Public History project. It is important to keep these histories for others."
Natalie Fousekis, director of the Lawrence de Graaf Center and one of the interviewers on the center's Orange County Politics Project, agreed. "Oral histories with leaders in state and regional government are critical to our understanding. They can provide us with their personal evaluation of their life in politics, their challenging moments and their achievements.
"Why did they do it? What can we learn from their dedication?" Fousekis added. "When we started this project five years ago, we began to fill in the holes (in Orange County's history) so these stories wouldn't be lost."
Video presentations on the three honorees were shown at the event.
Established as the Oral History Program in 1968, the Lawrence de Graaf Center for Oral and Public History maintains the largest regionally focused oral history archive in California, with 6,000 recorded interviews, related transcripts, photographs and other materials. More information on the center and the Orange County Politics Project can be found online at http://coph.fullerton.edu/.