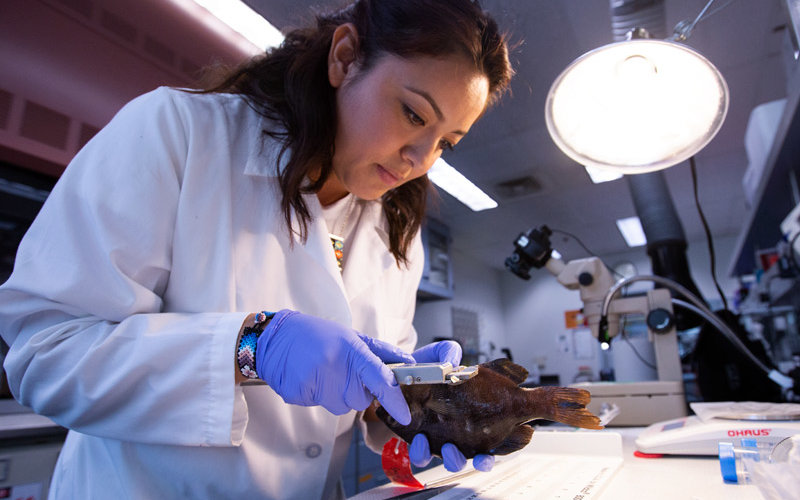 Cal State Fullerton is the host campus for the 33rd Annual California State University Research Competition April 26-27.
The statewide competition showcases excellence in innovative undergraduate and graduate research as well as creative activity from the full range of academic programs offered in the CSU.
Ten students from each of the 23 CSU campuses are selected to compete in the competition, which involves oral presentations before juries of professional experts from major corporations, foundations, public agencies, colleges and universities in California.
Cal State Fullerton will be represented by students selected during a campuswide contest held Feb. 26-28.
Graduate student competitors are:
Shubham Birar, mechanical engineering
"Study on Fractal-Based Monopole Antenna Fabricated Using 3D Polymer Printing and Selective Electrodeposition Process"
Mentor: Sagil James, assistant professor of mechanical engineering
Evelyn Bond, biology
"The Reproductive Biology of Male Surfperches (Embiotocidae teleostei)"
Mentor: Kristy Forsgren, associate professor of biological science
Yvonne Dimagiba, biology
"Role of Ligands in Photosystem II Catalyzed Manganese Oxidation by the Cyanobacterium Synechocysitis sp. PCC6803"
Mentor: Hope Johnson, associate professor of biological science
Saul Lopez, mathematics
"Economical Generating Sets of the Monoid of Partial Order-Preserving Injections"
Mentor: Scott Annin, professor of mathematics
Thilakraj Shivakumar, mechanical engineering
"Study on Effects of the Process Parameters on Mechanical Properties in Liquid Holographic Volumetric Additive Manufacturing Process"
Mentor: Sagil James, assistant professor of mechanical engineering
Undergraduate competitors are:
Natalie Clark, psychology
"The Effects of Video Game Use on Cognitive Function Among Healthy Older Adults: A Meta-Analysis"
Mentor: Giovanni Sosa, lecturer in psychology
Suzette Herrera and Daniel Arroyo, chemistry and biochemistry/biological science
"DNA Nanorobot Designed to Function as a Chemotherapeutic Delivery System"
Mentors: Madeline Rasche, professor of chemistry and biochemistry, and Nina Robson, associate professor of mechanical engineering
Kendra Paquette and Jessica Barragan, psychology
"Eyewitness Memory for Disguised Faces"
Mentor: Iris Blandón-Gitlin, professor of psychology  
More information about the annual program can be found here.