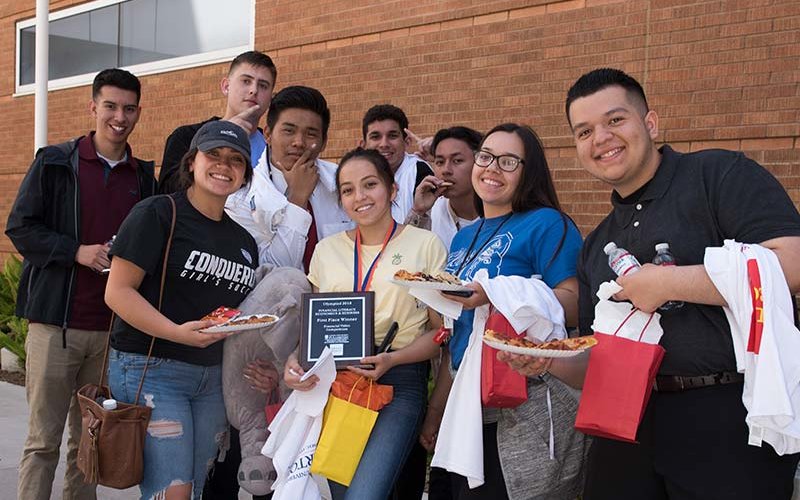 Local elementary, middle and high school students will have a chance to show off their business prowess at the fifth annual Olympiad for Financial Literacy, Economics and Business April 13. Hosted by Cal State Fullerton's Center for Economic Education, the program will be held in Mihaylo Hall.
Inspired by science and math olympiads, Radha Bhattacharya, center director and economics professor, created the program which now involves hundreds of students from fourteen schools in Los Angeles and Orange County.
The April Olympiad event is the culmination of weeks of preparation and work by students. Only finalists from each school attend.
The day includes five components: The Stock Market Game™ strategy explanations, business plan pitches, financial video presentations, and financial literacy and business news competitions in a Jeopardy game format. Schools can participate in one or more of the components, but they must participate in all five to win the Olympiad.
Graduates of Mihaylo's entrepreneurship and economics programs serve as competition judges.
There are cash prizes for winners of each of the five areas, and the overall Olympiad winners receive cash and a trophy for their school.
CSUF business students taking the Economics Internship course play a major role in the success of the Olympiad, says Bhattacharya. The undergraduates motivate and mentor student participants and provide supportive materials for their teachers as part of a hands-on experience that complements and solidifies their classroom learning.
"This [mentoring] role consists of explaining investing principles to people who don't have an investing background," explains Charles Sailor III, senior economics major. "The biggest thing I've learned is that the same explanation does not make sense to everyone. This is valuable because I want to become a financial adviser, and they want individuals who have experience explaining complex concepts to people."
Emily Krasch, senior in business administration-business economics, creates the weekly newsletter that is sent to teachers for use with their Olympiad students.
"Prior to this internship, I had zero knowledge of the stock market. I have learned how to read the major stock indexes and explain how they are interconnected to the actions of firms and their employees, economic factors, current and future expectations of stakeholders and changes to consumers tastes."
More information about the Olympiad for Financial Literacy, Economics and Business is available on the Center for Economic Education website or by contacting Radha Bhattacharya at 657-278-3652.
Cal State Fullerton's Center for Economic Education seeks to promote economic and financial literacy in elementary, middle and high schools, institutions of higher learning and in the larger community through curriculum development and consultation, workshops and courses, materials dissemination and education research.