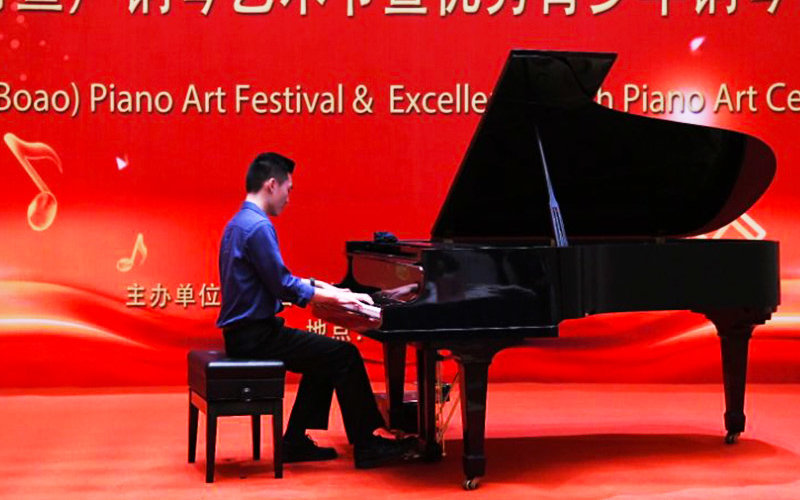 Six hundred piano students from 12 provinces in China, as well as a delegation of pianists from Europe and the United States, gathered together earlier this year to participate in the Bo'ao Piano Arts Festival in China's Hainan province.
Nonprofit community music school OC Music & Dance approached music professor Bill Cunliffe about having a Cal State Fullerton student join the Orange County delegation for the first time. Cunliffe and fellow professor of music Rob Watson encouraged Mathew Yang, a freshman in the School of Music, to join.
Yang outshined the competition, winning first place in the jazz and classical divisions, and was one of four selected contestants to perform at the awards ceremony in front of a live audience — and an even larger televised national audience.
The freshman credits the mentorship of Cunliffe and Watson for the opportunity to attend the event, which included master classes and recitals, as well as a competition and showcase for pianists of all ages.
"As educators and mentors, they always want to make sure I'm doing my best," says Yang. "Each of them offered different insight into playing each category that I wouldn't have thought of, and techniques and ideas to incorporate into my music."
It wasn't too long ago that Yang was trying to choose which school to attend. Then he auditioned at Cal State Fullerton.
"The staff and faculty here want you to succeed," he says. "Instead of the competitive environment you find at other schools and conservatories, you're allowed to make mistakes, fix them and become a better musician.
"The culture is different from other schools. That's what I really fell in love with."