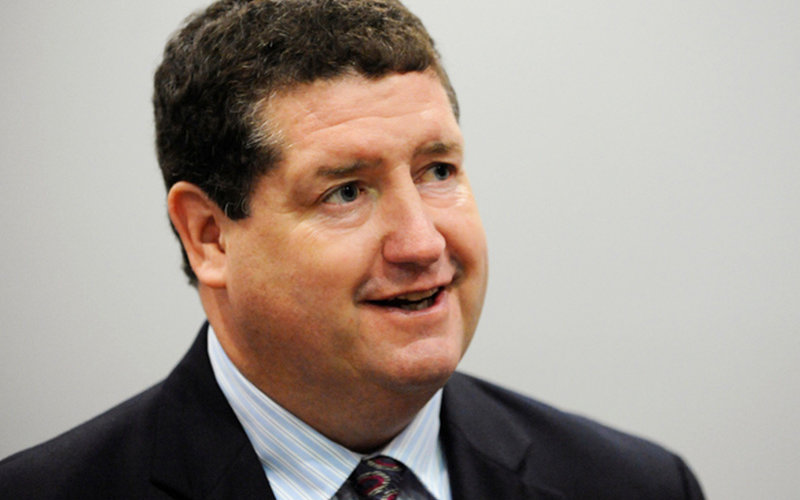 Jim Donovan, athletic director at Cal State Fullerton, has been named one of the winners of the Under Armour AD of the Year Award.
The National Association of Collegiate Directors of Athletics (NACDA) announced the 28 winners of the award, which spans seven divisions. Donovan was honored as one of four Division 1-AAA athletic directors from across the nation.
The award highlights the efforts of athletics directors at all levels for their commitment and positive contributions to student-athletes, campuses and their surrounding communities.
"To truly grasp the impact of Jim's leadership, first consider the historical context within which he arrived in 2012," said Cal State Fullerton President Fram Virjee. "Student-athlete graduation rates were far below the universitywide average, fundraising progress was anemic, student attendance was down, and we were many years removed from a multi-championship year in the Big West.
"Today, fundraising has increased by more than 600 percent; student attendance is up over 1,200 percent; our all-team Academic Progress Rate is at all-time highs; and, after capturing a record six Big West Conference Championships in 2017-18, the Commissioner's Cup is in our trophy case for the first time in history."
Winners will receive their awards in June at NACDA's 54th Annual Convention in Orlando, Florida.
"I am certainly honored and humbled by this recognition," Donovan said. "That said, I believe it is truly a recognition of all our administrators, coaches and staff on campus and in Titan Athletics, as well as what we are accomplishing.  We win as a team, and we accomplish new records as a team. I truly share this award on behalf of Cal State Fullerton and all members of Titan Athletics!" 
"Jim Donovan is incredibly deserving of the honor of Athletics Director of the Year because of our Titan Athletics successes during competition, as well as the student-athletes that he has helped grow outside of competition," said Berenecea J. Eanes, vice president for Student Affairs. "We have some of the most intelligent, focused and motivated student-athletes in the California State University system enrolled at CSUF, and a major reason for that is Jim — the architect of our program.
"Furthermore, our athletics program is strong and thriving because of the administrators that he has helped develop. The expectations of excellence that he established, ranging from student-engagement efforts to fundraising to recruitment and more, has energized our program in immense ways. One of the greatest pleasures of my career has been to work with Jim, and I speak on behalf of the Division of Student Affairs when I say, we are thrilled for him."
"Jim has been crucial to the success of not only our men's basketball team but the entire Athletics department," said Dedrique Taylor, head men's basketball coach. "The support he has shown us as coaches and student-athletes cannot be measured. The 2017-18 year was our best ever but we aren't satisfied — and that desire to be even better starts at the top, with Jim." 
"The athletics directors who have been recognized as part of the Athletics Director of the Year Program continue to raise the bar as thought leaders and decision makers in college athletics," said Bob Vecchione, NACDA chief executive officer.  
For more details, visit https://nacda.com/.