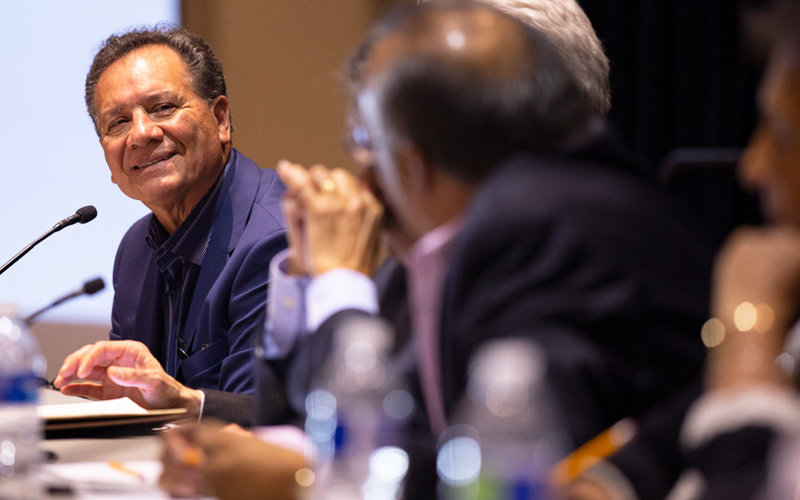 Students learned about the rise — or "power shift" — of Latino political power in Southern California as several prominent Los Angeles-based Latino and Latina leaders came to Cal State Fullerton to share stories of activism, public service and resilience that have transformed politics and government. 
The students from across multiple majors learned about Gloria Molina, who broke barriers to become the first Latina in history to be elected to the California State Legislature, the Los Angeles City Council and Los Angeles County Board of Supervisors. Richard Alatorre, a former state assembly member and the second Latino to serve on the L.A. City Council in the 20th century, and Richard Polanco, a former state assembly member and senator who chaired the California Latino Legislative Caucus, also shared their pioneering contributions to Latino empowerment.
These influential political figures joined George L. Pla and David R. Ayón, authors of "Power Shift: How Latinos in California Transformed Politics in America" (Berkeley Public Policy Press 2018), for a March 12 book panel discussion on campus. Molina, Alatorre and Polanco are among 10 Los Angeles Latino leaders featured in the book.
Other speakers were Jeanette Vázquez, a Fullerton School District board member and first-generation college graduate, and Margie Brown-Coronel, CSUF assistant professor of history, whose work focuses on the intersection of public history and Latina history. Inez González Perezchica, director of CSUF's Latino Communications Institute, moderated the discussion.
"The contributions and achievements of Latino political leaders are important to learn because they show us that the past is full of stories of people — from all walks of life — who sought and achieved social change and justice," Brown-Coronel said. "When we recognize a diverse past and the contributions of people like the ones featured in the book, we have a stronger appreciation and understanding of our present-day challenges and the possible solutions. Through learning about these contributions, we learn about the importance and possibilities of civic literacy and engagement."
Pla, the CEO, president and founder of Cordoba Corp., a civil engineering, construction and program management firm, welcomed students and campus and community members. The Cal State Los Angeles graduate relayed that it was important to write the book to share the personal stories of the Latino trailblazers in politics in California — to bring them "front and center" and to educate students and others about how each rose to political prominence.
"Young people need to know the contributions these individuals have made," Pla said. "It's an American story that we're very proud of, and what the book is about."
Molina shared her Chicana roots, how she became involved in the Los Angeles political movement as a college student, and "kicked open the door" for Latinas when she was first elected to public office in 1982 to serve on the California Assembly.
"I hope that students saw themselves in us; in other words, that they can achieve the kinds of roles we've had," Molina said. "We've had positions of power, and we've used that power to benefit the community."
Following the discussion, civil engineering major Ace Escobedo relayed that the lesson learned is everyone can make a difference: "We all have the power to make changes — and we all have to do our part. Hearing their stories makes me want to do more."
A book-signing followed the speakers panel, with students in attendance receiving a free copy of "Power Shift."
Read more about Pla here.