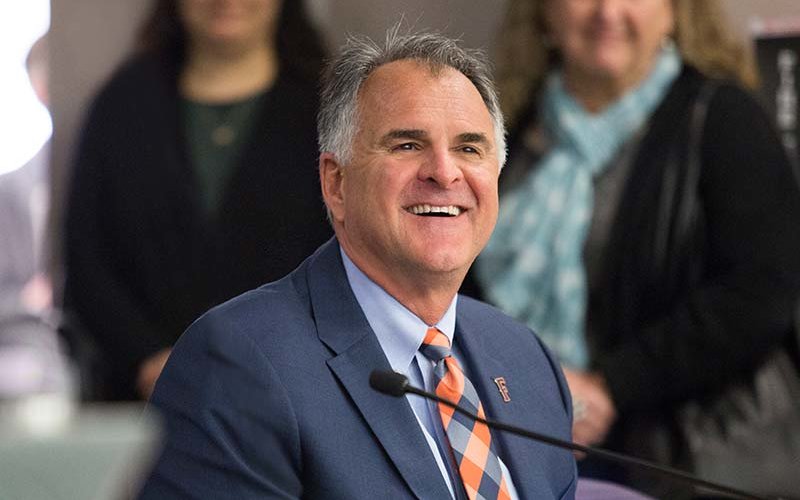 On March 20, 2019, The California State University (CSU) Board of Trustees appointed Framroze "Fram" Virjee to serve as president of California State University, Fullerton (CSUF). Virjee has been serving as campus president under a term appointment since January 2018 and will assume the permanent presidency immediately. 
Virjee becomes the sixth permanent president of CSUF. He succeeds Mildred García, who was appointed president of the American Association of State Colleges and Universities (AASCU) in November 2017. Virjee was subsequently appointed by CSU Chancellor Timothy P. White to serve as president of CSUF until the next president was appointed by the Board of Trustees, and he has served in that capacity since García's departure. 
"Over the last 15 months, our faculty, staff and students managed to build upon the incredible momentum achieved long before my arrival; further personify our family motto, Titans Reach Higher; and elevate our stature as a University of Significance in the region, state and nation — all with a rookie president at the helm," said President Fram Virjee. "Joining, learning from, and succeeding with this incredible Titan Family has been the greatest honor of my life, not to mention the most fun I have ever had, and I am thrilled at the opportunity to continue our collective work, and to chart the path forward for Cal State Fullerton."  
Virjee will oversee a campus that enrolls almost 40,000 students and boasts of more than 274,500 alumni. Cal State Fullerton is among the top three percent of universities in the nation helping low-income students reach financial success, according to the Social Mobility Index developed by PayScale and CollegeNet (October 2018).  
"For more than a year, I have had the opportunity to put my shoulder to the wheel of one of the most transformative universities in the nation; a place where students go to class under the weight of both the books in their backpacks and the family legacies on their shoulders; an inclusive home where educators and community leaders commit to moving these students to 'Reach Higher' academically, professionally, and in service to our state and nation," he said.  
 
From January 2014 through December 2017, Virjee served as executive vice chancellor, general counsel and secretary to the CSU Board of Trustees. In that capacity, Virjee led a staff of attorneys, paralegals and support personnel, and oversaw all legal services for the 23-campus CSU. Virjee also served as chief legal officer to the Board of Trustees, advising them on all legal issues including open meeting laws, board rules and procedures and education code compliance. 
 
Prior to joining CSU, Virjee was a partner in private practice for almost 30 years at O'Melveny & Myers, the oldest law firm in Los Angeles and one of the largest in the nation. At O'Melveny, Virjee specialized in labor and employment law with an emphasis in representing educational institutions in the areas of collective bargaining, education code compliance, and discrimination and employment litigation. Virjee's practice included representing employers in employment litigation, providing preventative advice through client counseling, policy and procedure review and drafting, and extensive in-house training and education on important labor and employment issues.  
 
Virjee graduated summa cum laude, earning a bachelor's degree in political science and sociology from the University of California, Santa Barbara. He earned his J.D. cum laude from the University of California Hastings College of the Law. 
 
Over the last year, CSUF created only the second university-wide strategic plan in the institution's 61-year history, developed the makings of the first physical master plan in 15 years, launched the first comprehensive capital campaign, recorded the highest fundraising year ever, and increased both four- and six-year graduation rates for first-time freshmen and two- and four-year graduation rates for transfer students to all-time highs. The university also successfully prepared for its upcoming WASC Senior College and University Commission review. 
 
Other accomplishments that have occurred during Virjee's 15 months at the helm of the university include: 
In August 2018, Washington Monthly reported that the campus was sixth in the nation for lowest net cost.  
Admitting the first freshmen class that is more than 50 percent Hispanic and rising to No. 4 in the nation for bachelor's degrees awarded to underrepresented students. In addition, there was increased diversity in hiring by every measure, resulting in the highest percentage of faculty and staff diversity in university history. 
Achieved a significant focus on opening or renovating centers grounded in student wellness, diversity, and/or academic excellence.  
Initiated and led the creation and opening of Club 57, an on-campus faculty and staff lounge, which has since become a significant harbinger of campus collaboration and improved morale.  
Saw funding for student and faculty research, curriculum development, scholarships and fellowships, and public service activities hit a ten-year (and perhaps all-time) high of $27,248,395 in fiscal year 2018 – a more than a $1 million increase over the previous year.  
Achieved record-breaking numbers in every measurable category, including the highest dollars raised in one year, along with the highest number of alumni donors, the highest number of individual donors, the highest number of parent donors, the highest number of faculty/staff donors, and the highest number of senior gift donors. 
As impressive as these accomplishments are, what most faculty, staff, students and community members appreciate most about Virjee is his enthusiasm, support and genuine joy at being on campus, meeting with people and working with colleagues to provide the best possible education to CSUF students. 
Like many Cal State Fullerton students, Virjee became the first in his family to earn a college degree. 
At Virjee's side throughout his career has been his wife, Julie. They met while both were in college at the University of California, Santa Barbara. They have three sons and one grandson. Julie is very active on campus as a volunteer dedicated to student success. Fram and Julie are founders of Yambi Rwanda, a non-profit organization dedicated to helping the people of Rwanda through empowerment and collaboration in areas of education, financial sustainability and creating vibrant life experiences. 
"Julie and I talked it through and made a very specific and informed decision to move to Fullerton and become a part of this wonderful community," Virjee said. "I get the chance to connect my personal passion for equality, social justice, social mobility and education with my professional passion for doing those things as part of a greater community." 
"We conducted a national search that included many exemplary candidates, and it became apparent that the best person to be the next president of CSUF was already serving the campus," said CSU Trustee Silas Abrego, chair of the CSUF search committee. "In his time leading CSUF, Fram has demonstrated unbridled energy and passion for the campus and students, and under his leadership CSUF will reach even greater heights." 
"With the overwhelming support of the Titan Family, together, we aim to see CSUF become a system, state and national beacon for equitable access to academic excellence where diversity — in all of its forms — leads to transformation of self and society," Virjee said. 
Additional information is available on The California State University's website.