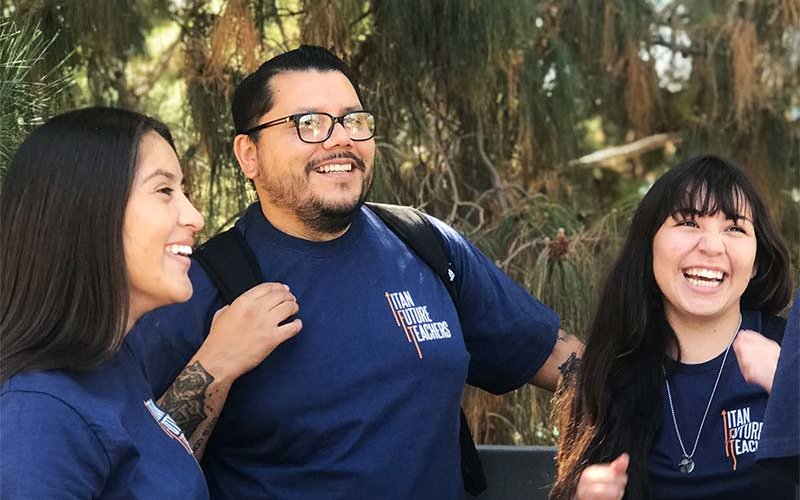 First-year college student Francisco Vazquez wants to be a high school Spanish teacher, but didn't quite know the pathway — that is, until he connected with Cal State Fullerton's Titan Future Teachers program.
"I have attended various workshops, which have given me knowledge on how to succeed in the teaching profession and also helped me to make new friends," said Vazquez, a Spanish major. "The program has created a sense of community of like-minded individuals who all have a passion for teaching."
Launched this academic year by the College of Education and the Center for Careers in Teaching, the program guides undergraduates on a teacher preparation pathway before they graduate so they can learn about the profession and enroll in courses to prepare them for teacher credential programs.
More than 300 students from across majors are currently involved Titan Future Teachers, which is building an on-campus learning community of future pre-K-12 teachers to meet staffing needs in local schools, said Aimee Nelson, the center's director. The program, led by Jacqueline Calabrese, the college's graduation specialist, also focuses on advancing diversity in the teaching workforce by recruiting more Latino and African-American students, as well as men.
Calabrese discusses the need to support undergraduates in their journey to become a classroom teacher.
Why offer the program?
This effort was driven by student needs because the university doesn't offer an undergraduate program in teaching. CSUF's teaching credential programs are postbaccalaureate programs, so it is critical that students prepare to become teachers at the undergraduate level. Titan Future Teachers allows students to preview the philosophies and central tenants of a CSUF teaching credential program. We're exposing undergraduates to materials and perspectives they won't necessarily see until they enter a teacher preparation program, which we hope makes them better prepared for the credential program and beyond.
How does the program prepare undergraduates for teaching careers?
The monthly workshops cover various topics, such as test and interview preparation, the use of technology in the classroom and teaching with culturally relevant pedagogy. We also advise students on the requirements for the credential program so they can be ready as soon as they graduate, if that's their goal. In this first year alone, we've seen students form friendships and foster a meaningful community of future educators.
What are the program's long-term goals?
Through our workshops, we hope students are feeling supported and prepared for a teaching credential program, and that subsequently, they become impactful teachers in the community. We have been intentional about workshop curriculum that includes just, equitable and inclusive educational practices so that students are empowered to be effective educators to all students in any setting.
The program will celebrate its inaugural year at a May 7 event. For more information about the event and Titan Future Teachers, visit the Center for Careers in Teaching website.