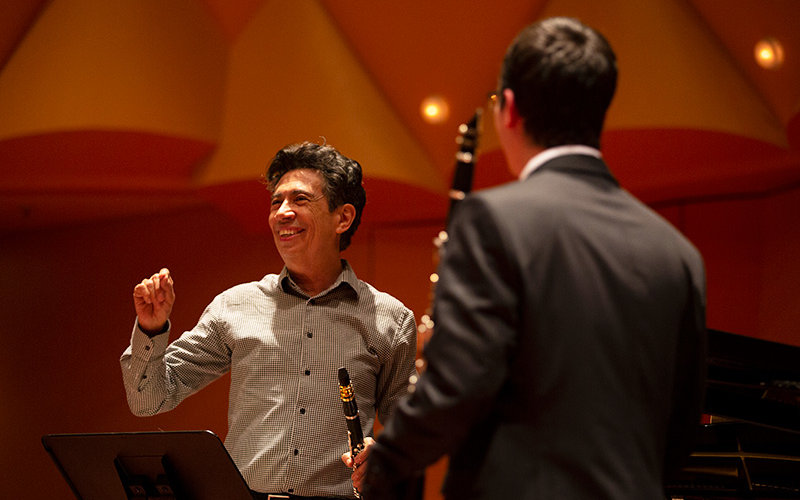 Joaquín Valdepeñas first picked up a clarinet when he was a seventh grader at Fremont Junior High School in Anaheim. 
"My buddies and I wanted to play the trumpet but by the time they got to the Vs in the alphabet, they were out of trumpets," he says. He chose the clarinet instead.
"I played the clarinet all through junior high and high school. … but I didn't have a private lesson until I went to Cal State Fullerton," says the music performance alumnus. 
In high school, the principal clarinetist at the Toronto Symphony Orchestra had to borrow an instrument. "I didn't have my own. (When classes resumed) in September, I would start in the back of the band as last chair and, little by little, work my way up," he explained. "In June, I had to give the clarinet back. I didn't know you had to practice. I didn't even ask if I could keep it over the summer — they probably would've said yes — so I would forget how to play it. Even the fingering. Each September, I would start back up again."
It wasn't until his senior year that his mother bought him a clarinet so he could practice on his own that summer before his placement audition at Cal State Fullerton. 
Despite not having declared a major and never having received private lessons — something almost unheard of for anyone going into a university music program — Valdepeñas was assigned to the clarinet studio of the late Kalman Bloch, who was principal clarinetist for the Los Angeles Philharmonic for more than 40 years. Bloch gave him a 30-minute lesson each week and became his mentor, advising him to apply to the music program at Yale — Valdepeñas has a master's degree from the university — and, prior to that, to audition for the Aspen Music Festival in 1977. 
"During the placement audition, to my surprise, I came out No. 1. I've been on faculty there since 1984."
Valdepeñas was back at Cal State Fullerton in February to offer a master class to three hand-picked graduate students from the School of Music: Guilherme Batalha (who performed "Concerto No. 1 in C Minor" by Ludwig Spohr), Alexander Tu ("Bucolique" by Eugene Bozza) and Sierra Allen (Artie Shaw's "Concerto").
During the master class, College of the Arts Dean Dale Merrill announced that Katherine Powers, director of the School of Music, and Håkan Rosengren, professor of music, had pledged a gift to endow the first scholarship for clarinet. 
As Valdepeñas spoke of Bloch's influence on him, guest Michele Zukovsky spoke up. "I know him as Dad," said Zukovsky, who took over for her father as principal clarinetist for the Los Angeles Philharmonic.
"I call him Dad, too," Valdepeñas smiled. 
It was not the first time the alumnus has taught a master class at his alma mater, but it was a homecoming of sorts for music alumni who studied with Valdepeñas, including Theresa Harvey '81 (B.A. communications, B.A. music – music education) and Katherine Peters '79 (M.M. music performance).
Valdepeñas, who has won two Canadian JUNO Awards and received three GRAMMY nominations, is a 2019 Vision & Visionaries distinguished alumnus. He is artistic director of the Amici Chamber Ensemble and is currently on the faculty of the Glenn Gould School at Toronto's Royal Conservatory of Music. 
One alumnus was missing from the musical homecoming, but the clarinetist sees him often: Michael Sweeney '81 (B.M. music performance), a bassoonist from Valdepeñas time at CSUF, is principal bassoonist at the Toronto Symphony Orchestra. "We've been sitting together since the '80s, next to each other, just like we did at Cal State Fullerton."