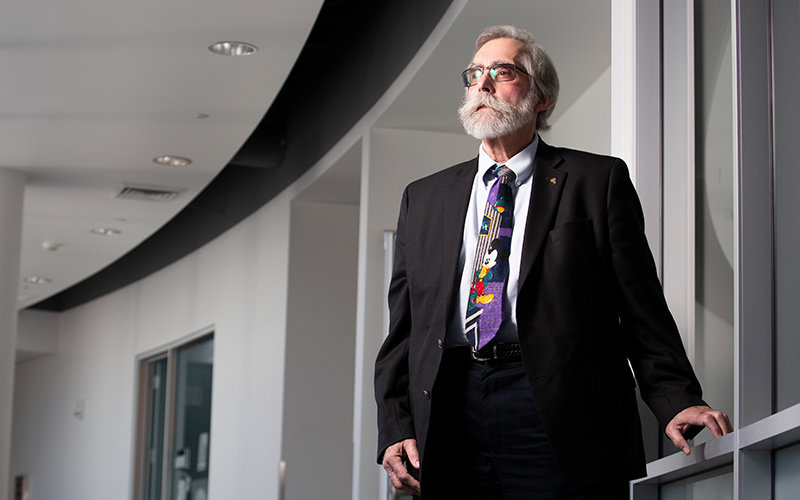 Aubrey LeBard sits back at his desk and gestures to his Mickey Mouse tie. "I actually have 187 Mickey Mouse ties," said the marketing faculty member. It's not just because he's a fan. It's marketing.
"Many years ago, I served as treasurer for a mayoral candidate who always wore two different colored socks," LeBard explained. "People always asked him about it. He told me, 'Everybody needs their own thing. People remember me for my socks.' So I started with Mickey Mouse ties. Many of them have been given to me … and while people may forget my name, they don't forget the professor with the Mickey Mouse ties."
LeBard has demonstrated one of the first principles of marketing — differentiate. (Who else do you know with 187 Mickey Mouse ties?)
LeBard has not only spent 40 years teaching at Cal State Fullerton, he's an alum, having earned a bachelor's degree in business administration here before pursuing a graduate degree at USC.
"I began in 1978 when we had chalkboards and overhead projectors," he said. "Photocopies had just become available and that was very exciting. The campus was much smaller and I got to know many fellow faculty members from other disciplines such as drama or sociology. Now, because the campus has grown so large, you don't see as much socializing between colleges."
Not only has the campus changed, but the subject of marketing has changed as well.
"When I began, marketing was about advertising and traditional methods of getting the word out," he explained. "Today, social media has changed many of the rules. Fortunately, our curriculum has evolved and changed, too."
Even teaching has changed. For example, LeBard began teaching online classes in 2009. He taught one of this first televised classes in the early 2000s. "I figured I'd have a go at it," he recalled. "And while many tech classes are wonderful, there are many things I like about teaching in the classroom. With online, you can't really answer spontaneously because you don't always see a student's expression."
He also worries about a generation that is so dependent on their mobile devices may have difficulty engaging one-on-one.
"We hear from folks in industry that younger people may have a hard time on interviews because they often don't make eye contact or shake hands or know how to react spontaneously." That said, he also believes the top 10 percent of students at CSUF are as good or better than students from previous years.
When recalling his decades of service to the university, LeBard remembers in 2009-10, when budget cuts forced furloughs for faculty and staff.  "Everyone decided that rather than having to lose any of our colleagues, we would all take pay cuts to make sure everyone kept their job," he said. "I think that says a lot about us as a community and institution.
During his decades at CSUF, he has taught 14 different marketing classes and 160 capstone classes.
"I'm also impressed with Mihaylo Hall and how the college has turned out," he said. "I think we are a great institution and that we are competitive with Stanford and other more well-known universities. There's a lot to be proud of here."