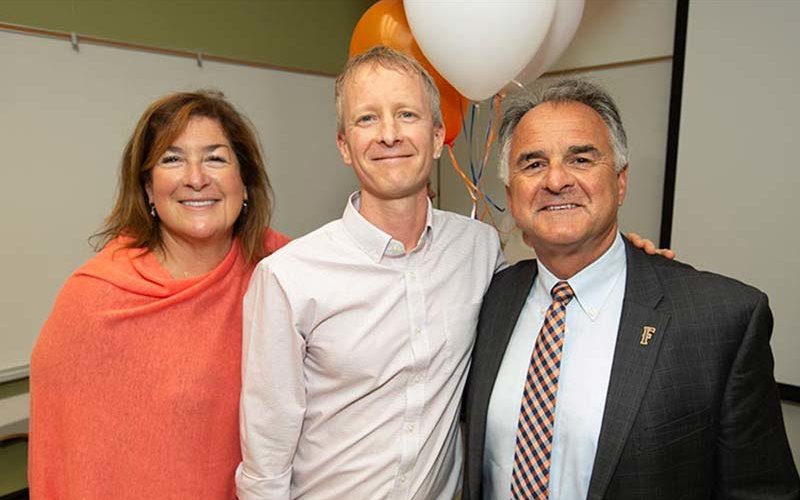 An engaged, caring mentor-educator. A superb, prolific and well-respected researcher.
These are but a few of the descriptions made by students, alumni, research associates and peers about Matt Englar-Carlson, this year's Cal State Fullerton Outstanding Professor Award recipient.
The educator, a member of the campus community since 2002, was surprised earlier today when President Fram Virjee, Health and Human Development Dean Laurie Roades and other faculty members and administrators entered his classroom to announce the top faculty honor.
"You mean a lot to us," said Virjee after making the announcement. "You care so much — about national research, about your area of expertise but you still put students first."
Shaken, Englar-Carlson thanked the president, his dean and his peers. "This is a real honor," he said. "Especially because of how much I care about this institution.
"When I arrived here, it wasn't where I thought I would be," he explained. "But I quickly realized — this is home. This award is wonderful but I think the best thing is always the students."
And the students expressed their support of Englar-Carlson with applause and cheers — not surprising considering the comments former students gave in support of the professor of counseling.
"As a student, I found him to be approachable, helpful and genuine. He engaged my classmates and me to think critically and encouraged us to challenge our preconceived ideas and beliefs," said Mia Oller '16 (M.S. counseling-marriage and family therapy), whose educational journey continued into a doctoral program at the University of Texas with Englar-Carlson's guidance and support.
"He provided a safe and empathetic environment in which I was able to be authentic and grow personally and professionally," she noted.
"I attribute many of my achievements to his mentorship and unwavering support, which has ultimately given me the confidence to be the scholar he believes I can be," agreed Jessica Liu, a 2015 counseling graduate and third-year doctoral student in counseling psychology at Lehigh University. "What I believe to be Matt's most valuable contributions to the student community at CSUF has been his ability to provide students with the opportunity to nurture their own strengths and interests." 
Matt Englar-Carlson with friends, colleagues and his students.
That is echoed in Englar-Carlson's teaching philosophy that he describes as student-centered "with an emphasis on helping students develop the intellectual, cultural and interpersonal competencies required to be a professional counselor. … I strive to encourage, inspire and be present so that students can become their best."
Irene Praitis, professor of English, comparative literature and linguistics, also sings his praises. "This dedication to educating students filters through all of Dr. Englar-Carlson's teaching. He is an exceptional mentor, leading 20-30 students, every year, to the completion of their master's degree projects. He has contributed to the streamlining of his department's curriculum, again ensuring that students have the best possible educational experiences. He also mentors students outside of his discipline as the director of the Graduate Student Mentoring Program."
"Such is Matt's teaching ability that he can even 'educate the educators' by improving faculty members' capacity to teach their students," notes John Gleaves, associate director of the University Honors Program and an associate professor of kinesiology.
"I have participated in countless Brown Bag lectures that Matt has organized for the Faculty Development Center to address diversity and three of his Faculty Learning Communities on better supporting our diverse students," added Gleaves. "By leading these programs, Matt's contributions as a teacher is magnified tenfold through the faculty he has mentored and supported."
Englar-Carlson has authored or co-authored three books on the psychology of boys, men and masculinities: "A Counselor's Guide to Working with Men" published by the American Counseling Association, "In the Room With Men: A Casebook of Therapeutic Change" published by the American Psychological Association (APA), and "Counseling Troubled Boys," the first book in the Routledge Series on Counseling and Psychotherapy With Men.
In addition, the researcher has authored more than 60 other scholarly publications and given 80 conference presentations not only in his primary research area but also focusing on multicultural, group and health counseling. He has created a training video, "Engaging Men in Psychotherapy," and was the creator and series editor of the 24-volume "Theories of Psychotherapy" series of the APA. Englar-Carlson has been named a fellow of the APA and been recognized with the organization's Distinguished Professional Service Award for the Division 51 region.
He is "one of the most prolific researchers in the field of counseling and the psychology of men and masculinity," said Fred Rabino, professor of psychology at the University of Redlands, who recently worked with Englar-Carlson on the creation of APA's professional guidelines for the psychological practice with men and boys.
"He has been a collaborative force in our field. … His presence throughout the literature in the field is, in many ways, a constant. He brings out the best in his peers," added Rabino. "Overall, Dr. Englar-Carlson has been the face of the men and masculinity field to the American Psychological Association, American Counseling Association and other academic arenas that educate mental health professionals."