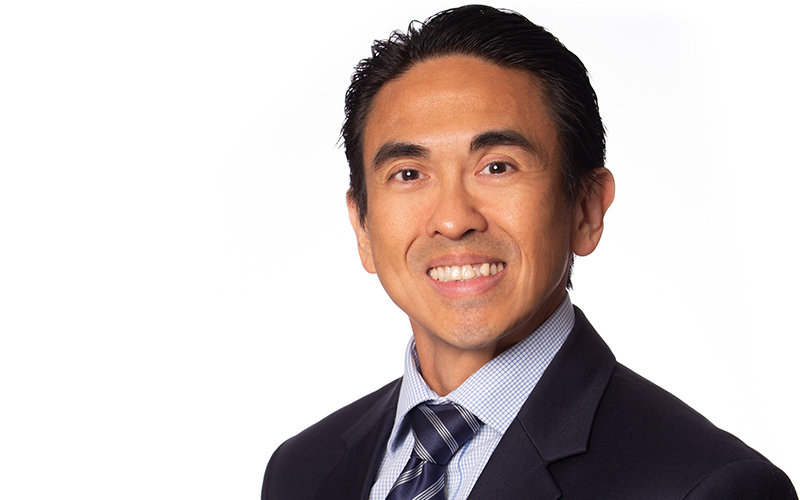 Rommel Hidalgo, an alumnus who earned his master's degree in management information systems in 2000, then moved up the ranks from student and student assistant to assistant vice president in information technology, returned last week to new tasks and a new title: associate vice president in information technology/innovation.
"I am truly grateful to be back home, paying forward a debt to the university that I can never fully repay," Rommel says. "The longer I stay on campus, the bigger my indebtedness to our institution of higher education becomes. But that's a good thing.
"From my viewpoint, the gradual progression from student … to assistant VP for IT was immensely beneficial. With each new role, the university gave me ever-increasing responsibilities that had positive impacts on my development as a higher education professional.
"I had awesome teachers at Cal State Fullerton — from Amir Dabirian (vice president of information technology) to Presidents Milton Gordon, Willie Hagan and Mildred García, my ISDS professors, my peers, my staff and my ISDS students," adds the alumnus.
"They were all constantly teaching me lessons that eventually helped every step of the way during my three years on Guam. I was able to thrive and succeed because of everything I learned at Cal State Fullerton."
Hidalgo left CSUF to become the first chief information officer at the University of Guam. During his tenure, he worked with the University of Hawaii, the Network Startup Resource Center at the University of Oregon, Pacific Wave/CENIC and others to implement the Guam Open Research & Education eXchange to broaden and increase the growth and effectiveness of data-intensive and collaborative research and education activities in the Asia-Pacific region with the global research and education community.
While his work in Guam was rewarding, "I returned home to the family that shaped me into the person I am. This campus changed my economic trajectory in life," he says.  "I am very excited about the IT projects that Amir has lined up for the campus. We have plans in place to implement technologies that will make the student experience and administrative processes even more convenient for the campus community."