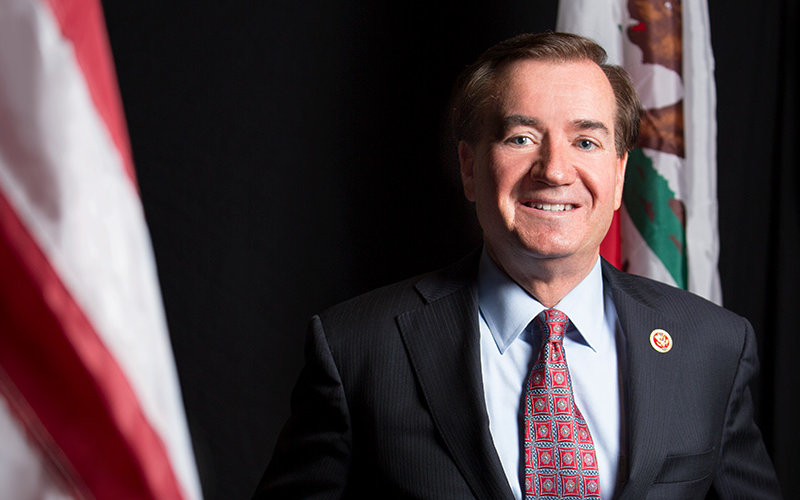 In the first gift of its kind for Cal State Fullerton, retired U.S. Rep. Ed Royce has donated his congressional papers to the university's Lawrence de Graaf Center for Oral and Public History.
A longtime supporter of his alma mater and the first Titan elected to Congress, Royce '77 (B.A. business administration) recently retired after 13 terms in the U.S. Congress.
The congressman's legislative career began in 1982 when he was elected to the California State Senate. Ten years later, he was elected to Congress. In his more than two decades of service in D.C., Royce earned respect from colleagues on both sides of the aisles. In 2015, The Washington Post named him one of the "10 most effective lawmakers in the U.S. Congress."
Royce served on the U.S. House Foreign Affairs Committee, as well as the African and Asian subcommittees. As chair of the Africa subcommittee, he played an important role in the drafting and passage of U.S.-African trade legislation. Throughout his time in Congress, he was instrumental in strengthening U.S. relations with Asian allies, especially democratic South Korea and Taiwan, pushing major trade and national security legislation to bolster trans-Pacific ties that are critical to southern California's economy.
In recognition of his years of work, Royce was chosen as chair of the full committee in 2013 — a position he held until his retirement in January.
"The future of our great nation depends on inspiring thoughtful and driven leaders," said Royce. "Cal State Fullerton understands this. That's why it's at the forefront of efforts to promote immersive learning, integrity and diversity. As a proud CSUF graduate, I couldn't be more excited to start a new chapter in our work together. It's my hope that this collection will serve as an important resource for researchers, community leaders and  — most importantly — students considering a future in diplomacy and public service."
Throughout his career, Royce always remembered his alma mater, helping to secure funding for CSUF's library, residence halls and gerontology center. He advocated for increased research and education in the areas of childhood obesity prevention, math and science education, water hazard mitigation and strategic language studies.
Understanding that students' educational experiences should expand past the classroom, Royce also worked to ensure that there were always internships available for CSUF students in his district and capitol offices, and brought various dignitaries and speakers to campus, including Y.J. Choi, the Republic of Korea's ambassador to the U.S.
The congressman also hosted his district Women's Conference on campus from 2009 to 2016, featuring such prominent speakers as actress Kristen Bell, former Secretary of State Condoleezza Rice, actress and UNICEF Ambassador Angie Harmon, and Hewlett Packard CEO Meg Whitman. He chose his alma mater to host a House Foreign Affairs Committee congressional field hearing that focused on the critical issue of human trafficking.
"We are honored that Congressman Royce has chosen to gift a piece of his political legacy to his alma mater," said CSUF President Fram Virjee. "Royce's gift once again demonstrates his commitment to education, as future generations of students and community members will be able to access his oral history and documents through the university's renowned Center for Oral and Public History, and for that we are truly grateful."
The Royce congressional papers collection will include both personal office and House Foreign Affairs Committee documents, photos and legislative histories. Additionally, the center will conduct an oral history with Royce spanning his educational, private sector and governmental experiences.
"We are delighted that Congressman Royce has donated his personal office records, as well as those from his years on the House Foreign Relations Committee, to the Lawrence de Graaf Center for Oral and Public History," said Natalie Fousekis, center director. "We look forward to sitting down with Congressman Royce to record an oral history interview about his three decades in public life."
Celebrating its 50th anniversary, the Lawrence de Graaf Center for Oral and Public History houses the largest regionally focused oral history archive in the state. Driven by the work of CSUF students, COPH houses more than 6,000 recorded interviews, transcripts, photographs and other materials.