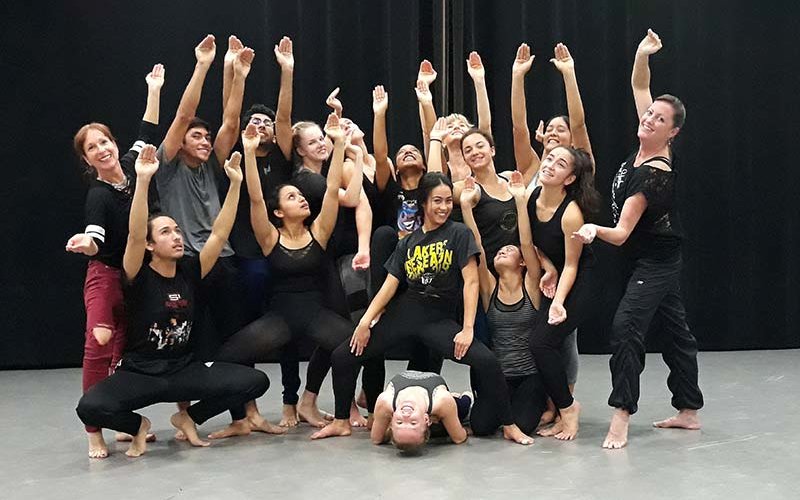 Halfway through a busy fall semester, Katie Munder and some of her fellow dance majors found a weeklong window in which to learn an energy-fueled piece with the help of Liberty Harris, rehearsal director for Dance Kaleidoscope.
Dance professor Lisa Long preps the students to work with guest artists, and Munder shared that having a new teacher "is always exciting.
"Liberty had great energy in rehearsal," said the sophomore.
Harris studied and works at Dance Kaleidoscope with artistic director David Hochoy, a former member and rehearsal director of the Martha Graham Dance Company. "IconoGlass" is Dance Kaleidoscope's signature piece, and one that Cal State Fullerton students learned for a special performance.
"The piece is a beautiful, athletic combination of David's take on Graham — how it has evolved," said Long, who was a member of the dance piece's original cast. "I was in the creation process for it. I can still feel it in my bones.
"The students have to have a very firm grasp on the Graham technique in order to do it and do it well," explained the professor. "It's a huge feather in their cap. The piece has five sections but we're only setting three, so it will be 12 minutes long. They learned the whole thing in five days."
Harris, she added, also spent time with several technique classes. "Our dancers got my 'voice' for Graham, and now Liberty's. They see that the codification of the technique is very clear."
"Something that inspired me about the piece is how thrilling everything is," said Munder, who calls it a "stamina-driven" dance. "We are doing some pretty crazy things and it looks absolutely amazing."
"Lisa always speaks highly of her students," said Harris. "She doesn't exaggerate. They're not only extremely talented, they're what we call 'hungry' dancers. They're so hungry for information and are soaking up the physicality of this piece — just throwing themselves into it. It's what I love doing — watching the next generation of dancers become passionate about the work that I love.
"Not only do they have to be physically talented and smart and eager to learn, but there's still a huge element to this piece that they have to be really brave," she added. "They kind of have to be daredevils. That was Hochoy's intention — to test the limits of his dancers: how fast can they go, how daring can they be when they jump into their partner.
"The students are surprising themselves, which is exciting to see."
"IconoClasts" (the name was changed for the CSUF performance) will be part of the May 2-12 Spring Dance Theatre repertoire coordinated by Gladys Kares, professor of theatre and dance. This semester's theme is "The Story of the Human Experience Told Through Modern, Ballet and Contemporary Dance." Tickets for the performance at the Little Theatre on campus are available online.