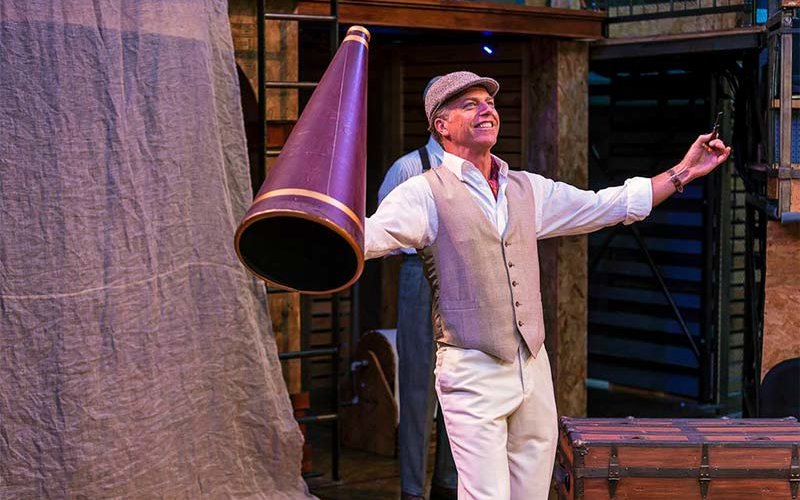 David Nevell always wanted to act and teach. He knows his experience as a working actor only helps him in the classroom.
"Because students are aware that I'm working professionally in the industry I'm training them to enter, they know I'm bringing what's current in the field into the classroom — so there's a kind of 'street cred' that's useful,"  explains the professor of theatre and dance.
Nevell's next turn on stage, in Arthur Miller's "The Price," is already adding to his teacher's toolbox.
What drew you to "The Price"?
Well, it's a rare gift to have the opportunity to play a role that resonates so powerfully. It's by Arthur Miller, who also wrote "Death of a Salesman" and "The Crucible." The play is about two brothers who were once close, but who made different choices in response to what happened to their father, and grew apart.
My character spends his whole life thinking he's the martyr and his brother was the jerk, and then he realizes that there's more to the story. We learn during the play that it's much more complicated than that. As a father myself, as a brother, and as a son of a deceased father, I draw from a deep well of successes and failures in this arena.   
How do you bring your experience as a working actor to the classroom?
That's one of the strengths of my department. Most of my colleagues work professionally in theater, film and television as actors, directors, stage managers, musical directors, choreographers, designers, dramaturgs, producers and critics …  and because we know what is required at that level, we bring that same expectation and rigor to our classes. It's sewn into the DNA of the department to teach what we know from our experience as professionals in the field.
I've always felt so lucky that I teach here because our students are hungry — they are like sponges. They know how hard it is to have any success in this business. I've taught at other places where there's a lot of entitlement, and in a field like this, where there are no guarantees, it doesn't even matter how talented you are — this is a field where the odds are against you. You have to have — or develop — a keen curiosity, humility, ambition and resilience to even have a chance.    
What are you teaching this semester?
A lot of my teaching involves transformation. I'm currently teaching an advanced dialects class — training actors in our BFA Acting program to transform their speech patterns to be totally believable in their portrayal of a character who is from somewhere they are not.  
I'm also teaching a character transformation class — how does an actor use their body, movement, gestures, voice and speech in order to become a different character. This starts with becoming aware of our own habits. Most of us aren't aware of how we carry ourselves, or idiosyncrasies that we have. In training to be an actor, the point isn't to rid yourself of those, but to become aware of them and then change them when you get to play a very different person.
And I'm teaching a course in physical theater. It's part of our devised performance programming, which teaches students how to create new pieces through ensemble work and finding what you want to 'say' as an artist.    
Much of acting centers around similar principles. How do you adapt to teaching something new?
I have a natural curiosity and excitement for theatrical storytelling, since it's both ancient and new. Its power comes from the fact that the artists and the audience are actually present with each other, in the same space, when the story is being told. As actors, we draw on what came before us, and we strive to find what's new. I'm always taking workshops and studying, and this is exciting and scary. Being an actor definitely keeps you on your toes. You're always thrust back to the beginning. It's good for me because then I can hopefully bring some humility to the classroom, some awareness of how scary it is to try something new.
I'm not always successful  — but I try.
"The Price" runs May 8-26 at the International City Theatre in the Long Beach Performing Arts Center.