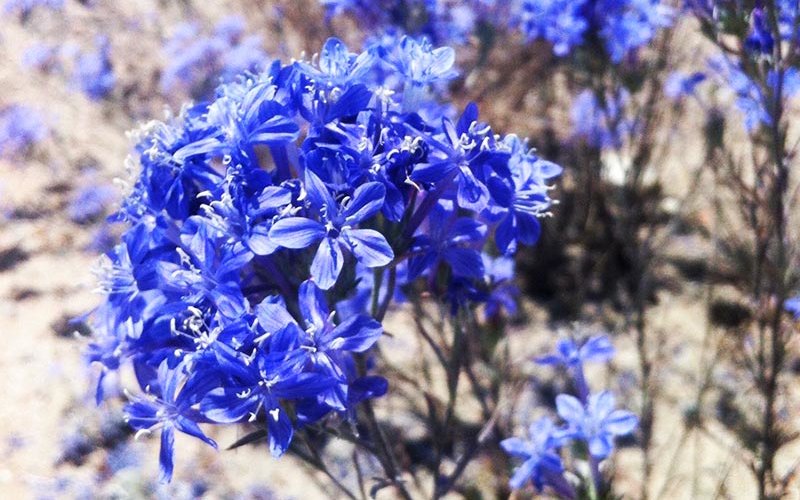 The Santa Ana River woolly star is a flowering plant with bright blue funnel-shaped flowers. The plant once thrived in the Santa Ana River floodplain, but today it is listed as a federally endangered species due to construction of a huge dam. The dam prevents regeneration of the woolly star's preferred habitat of flood-scoured, barren soils.
"Woolly star plants are among the first to colonize the Santa Ana River floodplain following flooding. The construction of the Seven Oaks Dam in 2000 in the Santa Ana River watershed now precludes natural flooding, thereby threatening the survival of woolly star populations," said Darren R. Sandquist, Cal State Fullerton professor of biological science. "Restoration methods will likely be required in the future to prevent extinction of this species."
The rare woolly star is important to the ecosystem for a number of reasons, Sandquist said.
"Many animal species, such as hummingbirds, flower-loving flies and native bees, use the plant as a food source. It also is one of the only plants that flowers late into the spring and summer," he noted.
Jack H. Burk and C. Eugene Jones, CSUF professors emeriti of biological science, began studying the low-growing shrub and its habitat after it was classified as an endangered species in the late 1980s. Their work focused on ensuring that woolly star populations persisted in the sand floodplains of the Santa Ana River,  which runs from the San Bernardino Mountains to the coast near Huntington Beach — the largest watershed in Southern California.
In 2006, Sandquist stepped in to lead the research project, with scores of undergraduates and graduate students involved in research efforts over the years to monitor woolly star populations, identify best practices for restoration and reduce the risk of extinction.
Most recently, Sandquist and his former biology graduate student Rebecca R. Hernandez, an assistant professor in plant and environmental sciences at the University of California, Davis, collaborated on a scientific paper published in the Ecological Society of America's journal Ecosphere.
In the paper, titled "A Dam in the Drylands: Soil Geomorphic Treatments Facilitate Recruitment of the Endangered Santa Ana River Woolly Star," Sandquist and Hernandez describe how using six soil treatments emulate flooding to determine which methods best facilitate recruitment of the woolly star in the absence of natural flooding.
Treatments were started in 1999, with surveys done in 2007 and 2013. Eight of Sandquist's students were involved, including Hernandez, the paper's lead author who earned a master's degree in biology in 2009 at CSUF and a doctorate in environmental earth system science from Stanford University. Hernandez credits her time at CSUF as influential in the decision to pursue professional work in dryland ecosystems.
"Working on this long-term study with my former master's adviser was incredibly rewarding as a professor now myself," Hernandez said. "I'm very proud to have been trained as an ecologist in Dr. Sandquist's lab and the work I did at CSUF as a graduate student solidified my interests in dryland ecosystems. We are both very proud of this paper as a symbol of the importance of long-term ecology studies, especially in dryland ecosystems where phenomena occur over extended periods of time."
The researchers found that reestablishment of the endangered plants was most successful when treatments were fairly intense. For example, thoroughly scraping the surface soil and removing existing shrubs, as might happen when a flood washes away soil and plants, created the best chance of woolly star survival. Other treatments also worked well, such as adding up to 12 inches of sand on top of existing soils, which might happen when floods deposit new sand.
Hernandez also noted that "the results were surprising in that the most positive treatment for plant recovery would typically be characterized as very destructive."
The study suggests than an active management approach may be needed to prevent extinction of the woolly star species.
"The worst scenario is doing nothing because over time, large shrubs and a thick layer of annual grasses — mostly non-native — prevent woolly star seedlings from becoming established," said Sandquist, who also is director of the California State University's California Desert Studies Consortium.