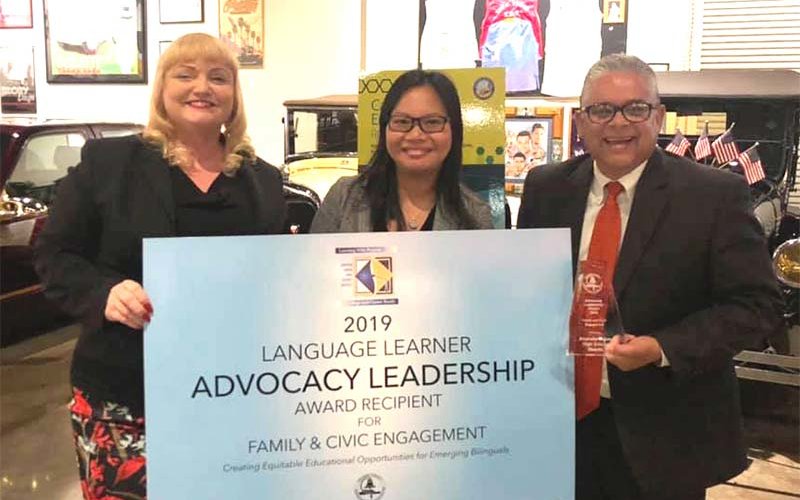 Natalie Tran, chair and professor of secondary education, has been selected as the 2019 Association of California School Administrators Region 17 (Orange County) Education Professor of the Year. Anaheim Union High School District nominated her for the accolade. Tran is director of CSUF's National Resource Center for Asian Languages (NRCAL), which focuses on improving the nation's capacity for teaching and learning Asian languages, including Vietnamese, Korean, Chinese (Mandarin), Japanese and Khmer. Tran will be recognized at school leaders organization's annual banquet May 13 at the Irvine Marriott.
Tran and NRCAL, in partnership with Anaheim Union High School District, also received the 2019 Advocacy Leadership Award-Family and Civic Engagement from the Orange County Department of Education. Tran and the center's work in schools and the community was recognized May 2 at the OCDE's annual Language Learner Celebration at the Marconi Automotive Museum. In announcing the award, the OCDE noted "receiving this prestigious recognition is a testament to your leadership team's exemplary efforts and dedication in creating equitable educational opportunities for English learner/emerging bilingual students."
Carolina Valdez, assistant professor of elementary and bilingual education, is the recipient of a 2019 Scholar-Activist and Community Advocacy Award for the Critical Educators for Social Justice Special Interest Group of the American Educational Research Association. Valdez received the award at the organization's recent national conference in Toronto for her work to promote and support equity and social justice in schools and society. In her nomination, a colleague noted Valdez's commitment to "preparing and supporting teachers who see education as a pathway of success for students of color and their communities."
Tim Green, professor of elementary and bilingual education, has been selected as the recipient of the 2019 Teacher Education Excellence Award from the International Society for Technology in Education (ISTE) Teacher Education Network. The global organization advocates technology to transform teaching and learning. Green, an educational technology expert, was selected for "clearly demonstrating his dedication and outstanding contributions to teacher education." He will be honored at the 2019 ISTE Conference and Expo June 23-26 in Philadelphia.  
Anaheim Ducks Educational Outreach Program
For the past 11 years, Christine A. Mayfield, lecturer in elementary and bilingual education, has supported the Anaheim Ducks' S.C.O.R.E. (Scholastic Curriculum of Recreation and Education) Program. Mayfield and CSUF teacher candidates developed the curriculum that supports the First Flight Field Trip, held earlier this year at the Honda Center in Anaheim. More than 16,000 local elementary school students received a curriculum workbook and attended the field trip, which connects STEM education to the community. Over 100 teacher candidates participated in the event this year to help lead educational activities with the elementary school children. Mayfield also serves as director of CSUF's SchoolsFirst Federal Credit Union Center for Creativity and Critical Thinking.