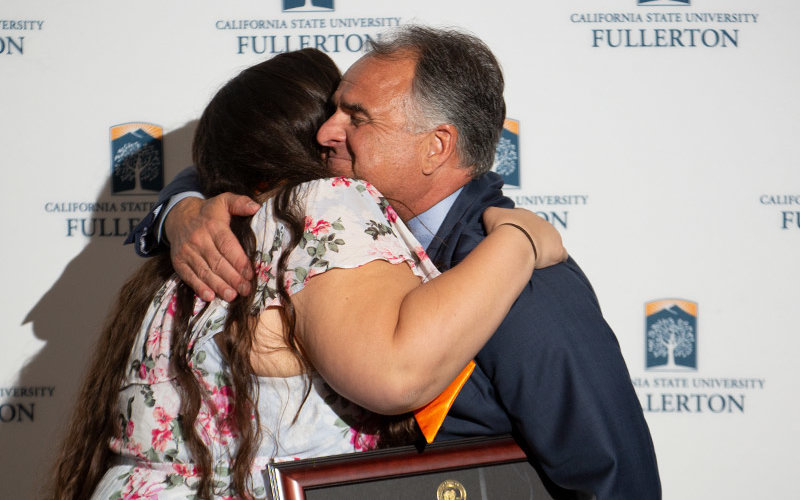 In foster care as a child, Cal State Fullerton nursing student Annmarie Herrera dealt with depression and lost hope. Foster care shaped her childhood, but college triggered her drive, motivation and determination to build a better life.
"I hung onto something that propelled me to be where I am today," said Herrera, a double major in nursing and health science who aspires to become a critical care nurse.
Linguistics major Christina Franklin-Bennyworth relayed that as a young girl, she never imagined earning a college degree, much less standing on a stage in front of people who helped the former foster youth break through barriers to reach her potential.
"My birth mom always told me I wasn't good enough, that I wasn't worth anything, and for a long time I believed it," said Franklin-Bennyworth, who entered the foster care system as a teen. In college, she's maintained a 4.0 GPA, been on the Dean's List every semester, and later this month, will earn a bachelor's degree and graduate at the top of her class.
"College was not an easy feat, but I learned a lot about myself. I was able to push myself and show what I'm really made of," she said.
Larry Junies, a double major in communications and American studies, stood on the stage last, commanded the microphone, and delivered an impassioned and evangelizing-style speech. The aspiring daytime TV talk show host first thanked campus and community advocates for giving him the opportunity to go to college, and earn not just one degree, but two.
Junies reminded fellow scholars that they are proof that foster youth can beat the obstacles and challenges of their childhoods — and are not alone, but have support from people willing to help every step of the way.
"Remember when we were in those empty spaces in our rooms, by ourselves, and we went from home to home, family to family; when we were abused physically and mentally? In those rooms by ourselves, we tended to think we could not be in this room today, but here we are."
That "room" was the May 2 Guardian Scholars Recognition Reception. Students, alumni and campus and community supporters celebrated the college accomplishments of 21 graduating seniors and welcomed 15 incoming students to the program, which supports current and former foster youth.
A handful of graduating scholars shared their personal experiences and college journeys and expressed gratitude, and at times, shed tears. The evening event commemorated the 20th anniversary of the Guardian Scholars Program, the first-of-its-kind program in California started on campus in 1998.  (Watch the 20th anniversary video here.) 
Today, the program supports and serves nearly 100 students to help them reach their goal of earning a college degree.
"Guardian Scholars helped to shape my college career like no other. The program taught me how to become the best form of myself, and that is what I appreciate the most." — Larry Junies, Graduating Guardian Scholar 
Clint-Michael Reneau, associate vice president for student affairs-student retention, gave opening remarks, calling the Guardian Scholars Program "the heart of our institution."
Reneau told graduating students that "you've learned to make peace with what has happened in your life. … Use your energy to lift yourself up and the world around you."
CSUF President Fram Virjee, and his wife, Julie, welcomed students and invited guests. In his remarks, the president thanked campus and community partners for their support in helping to create "a future and hope" for the program's scholars.
Virjee also acknowledged visionary campus and community leaders who launched the program.
"They dreamed of the day it would change the narrative for foster youth on our campus, and in the nation," the president continued,  adding "that a program would create hope, opportunity, vision and potential for these students; that is exactly what they wished for, and it has come to fruition. Guardian Scholars is what they dreamed of 20 years ago."
Virjee lauded the soon-to-be graduates for their "collective academic excellence and tenacity to stay in school and do well," in which the Guardian Scholars Program has a 97% retention rate.
To the class of incoming scholars, he pledged that the university will always have their backs: "No matter what you've been through, no matter what you're going through right now, or what challenges you will have, we're going to be here for you. We are your family."