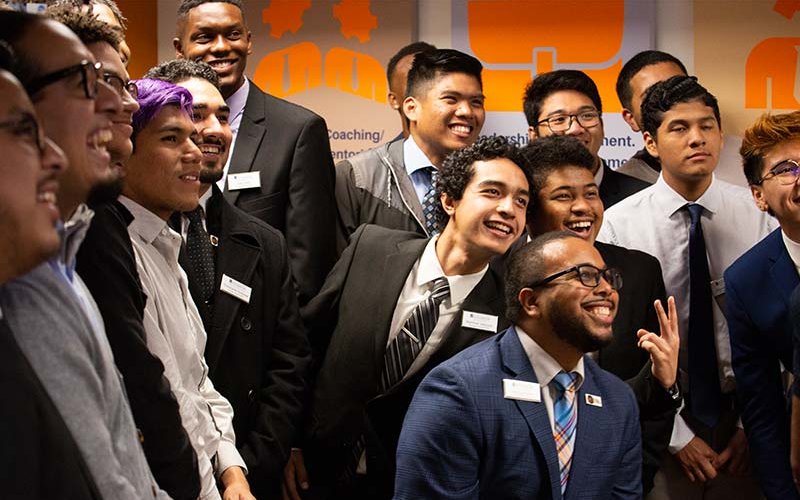 Psychology major Joshua Kelly always knew he was going to college.  
"As is common in black families, education is regarded as one of the most important aspects of one's life," Kelly said.
But after he arrived at Cal State Fullerton, Kelly found himself not liking college or his classes. He hadn't made any new friends and was dealing with personal issues. But the track and field athlete found his footing when he became involved with the Male Success Initiative-Fullerton program.
At first, he was skeptical and imagined the program to be "something incredibly cheesy," he laughed. But going on a "brother-to-brother" retreat changed the course of his college journey.
"The retreat changed everything. It was one of the most productive, developmental and enjoyable weekends that I had ever had," Kelly relayed. "Thanks to the staff and their creation of an inclusive atmosphere, I learned so much about myself and about my brothers. Even though we hadn't learned much about each other, I still felt incredibly close to them. We cried our eyes out together and made lifelong bonds."
Kelly shared his experiences at this week's opening of the university's new Male Success Initiative-Fullerton Center, a place designed to foster a sense of belonging and where men of color can achieve the "fullness of their potential," said Vincent T. Harris, the program's director.
"With the opening of this space, Cal State Fullerton is declaring a statement to all men of color that they indeed matter. That they are not invisible," Harris said.
The Male Success Initiative-Fullerton program was established on campus in 2013 to support and advance undergraduate African-American men, and in 2016, the program expanded to support all men of color.
"The program strives to improve retention and graduation rates and strengthen a sense of brotherhood among our Male Success Initiative scholars and fellows, encouraging them to achieve academic and personal success," Harris explained.
The Male Success Initiative-Fullerton Center is tucked on the second floor of Gordon Hall. The building's namesake is the university's long-serving African-American president, the late Milton A. Gordon.
CSUF President Fram Virjee, who was among campus and community members who celebrated the center's April 29 opening, said it was befitting that the center is housed in the recently renamed Gordon Hall. He called Gordon a visionary man who led the university for more than 20 years.
"It's important to recognize the irony and importance, that as we open this center in Gordon Hall, Dr. Gordon began his journey in higher education where there were buildings he could not enter because of his color," Virjee said. "Today, we open the Male Success Initiative-Fullerton Center in a building that is named in his honor and to recognize his legacy."
Berenecea J. Eanes, vice president for student affairs, also lauded the launch of the center, noting that the program is a beacon of light and unity for the students: "This program is here to support our men of color so they can see themselves being exactly who they want to be."
The program, part of the brotherhood of men of color initiatives across the California State University system, supports 30 Male Success Initiative Scholars who receive scholarship support, including 16 freshmen and 14 sophomores, as well as 55 fellows —  any student who self-identifies as a man or man of color who wants to actively participate.
The center houses offices for staff, graduate students and student assistants, and a multipurpose space for gathering and to study, which is equipped with smart-technology to host workshops, conferences and presentations. The center also has a computer lab, group study area and a room dedicated to the Brother-to-Brother Peer Mentoring Program.
Mathematics major Christopher Quinonez, a Male Success Initiative Scholar, also was among speakers at the center's opening celebration.
Quinonez, who aspires to become a high school math teacher, praised the program for giving students guidance, support and brotherhood.
"Being in this program has made me learn many ways of dealing with stress, classes, work and adult responsibilities," he said. "The staff, fellows and scholars themselves help each other out — whether it is tutoring or giving advice. It's a brotherhood you can depend on."
Kelly, also also Male Success Initiative Scholar, agreed: "Thanks to the godsend that is the Male Success Initiative, I have learned that I am more than what people think I am. I am a black man. We are more than the stereotype. I am 'me.' I am a brother."