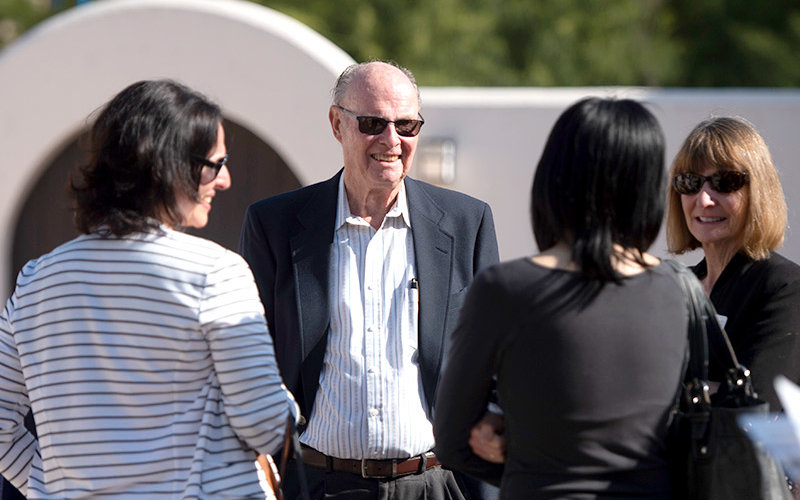 To celebrate its 50th anniversary, Cal State Fullerton's Lawrence de Graaf Center for Oral and Public History (COPH) recently invited many of its students, founders and supporters to campus for a day of lectures, programs and a celebratory reception. The afternoon of speakers and panels included center founders and directors, students and alumni, campus history faculty and oral history narrators who have had their stories recorded by COPH and reflected on the experience.
Panelists spoke of past projects that included curating museum exhibits at the Orange County Agricultural and Nikkei Heritage Museum, recording interviews with nine Latina community activists and preserving oral histories of some of Orange County's elected officials.
"The Center for Oral and Public History is one of the highest steeples of excellence on campus," said President Fram Virjee as he addressed the audience at an early evening reception. "We treasure stories. They create community. They help us develop legacies. This center is the pinnacle that students strive for in their work. Through the center, thousands of people have had their stories preserved for future generations."
Natalie Fousekis, center director, took time to thank founders Lawrence de Graaf, Art Hansen and Gary Shumway.
"These three history professors fought to make this a center, and as a result of their work, I knew I wanted to work here," she said. "Hearing the stories of our community is touching and moving. If it hadn't been for what they did, we wouldn't be here today."
Established as the Oral History Program, the Lawrence de Graaf Center for Oral and Public History maintains the largest regionally focused oral history archive in California, with 6,000 recorded interviews, related transcripts, photographs and other materials.
U.S. Representative Gil Cisneros (39th district) and California Assembly member Sharon Quirk-Silva (65th Assembly District), were on hand to offer their congratulations, as were representatives from the offices of U.S. Representative Lou Correa (46th district) and California Assembly member Phillip Chen (55th Assembly District).
Quirk-Silva, who has been interviewed by the center, joked about hearing herself later. "I'm going to have to work on the 'ums' and 'yeahs,'" she laughed. "But seriously, it takes a vision to create a place like the Center for Oral and Public History, and CSUF always takes on the opportunities placed before it. We all have stories to tell and they connect us to one another."
The reception also featured an oral history performance in which students shared excerpts from the center's vast collection. In this case, recordings from soldiers and family members who lived on the El Toro Marine Base were read to the crowd.
In 2020, the center is scheduled to move into a new state-of-the-art facility in the Pollak Library.
More information on the center and the Orange County Politics Project can be found online at http://coph.fullerton.edu/.