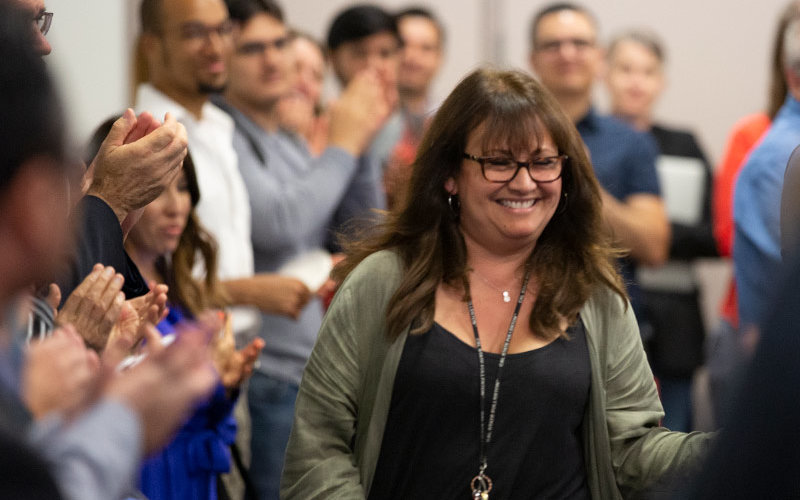 "Professor Cooper is the best teacher I've had at Cal State Fullerton. Let's clone her so she can teach more classes."
"I love her enthusiasm and love for this field."
These are just a few of the many accolades for Therese Cooper, recipient of the year's Outstanding Lecturer Award recognizing excellence in teaching effectiveness and commitment to students.
Expressing her surprise and gratitude when her name was announced at the May 2 Academic Senate meeting, she said, "Wow – thank you so much! I never, ever imagined being a professor at this level. It has been such a blessing. I love this place, and I love our students, and I appreciate you all so very much."
Cooper, a lecturer in communication sciences and disorders and a licensed speech-language pathologist, started at Cal State Fullerton in 2008 as a volunteer field supervisor for the advanced clinical practicum course. Since 2012, she has taught science-based courses and serves as a supervisor for graduate students in the CSUF Speech and Hearing Clinic.
Students praise Cooper's ability to clearly explain difficult, scientific information in an engaging and fun way. Leslie Chen, a master's student in communicative disorders, explains, "She supplements lectures with speakers who have craniofacial disorder, her own experiences working in the hospital setting and references to — my personal favorite — 'Larry the Larynx,' her 3-D anatomical model of a larynx."
The CSUF chapter of the National Student Speech Language and Hearing Association named her Professor of the Month in October 2012 and August 2013.
Ed Fink, interim dean of the College of Communications, adds that the lecturer is "a very engaged member of our academic community well beyond the classroom." Dedicated to advancing student success, she participated on the university's General Education Faculty Learning Committee and has served as a campus affordable learning solutions ambassador.
She is also the adviser for the Student for Smiles Club, which raises money for the nonprofit Smile Train that provides free corrective surgery for children with cleft lip and palate. Inspired by Cooper's "Voice and Craniofacial Disorders" course, students formed the club in 2015.
Above all, Cooper stands out as a passionate, caring individual with a deep connection to her students and patients.
"She has always believed in me," says former student Seung Kim '15 (B.A. communicative disorders). He feels that her passion, mentorship and encouragement to "never give up" has made him a better clinician at Children's Hospital of Orange County.
"Therese taught me that being a clinician goes beyond what we learn through the classroom: it is going the extra mile and genuinely loving and caring for each patient," adds alumnus Rico Marshello '17 (M.A. communicative disorders). "Her ability to juggle the responsibilities of being a teacher, mentor and adviser is what makes her an exceptional individual and member of the CSUF community."
Cooper holds bachelor's and master's degrees in communication disorders from Whittier College. She has worked as a speech-language therapist and pathologist at schools, hospitals, skilled nursing and assisted living facilities and rehabilitation centers in Southern California since 1988.