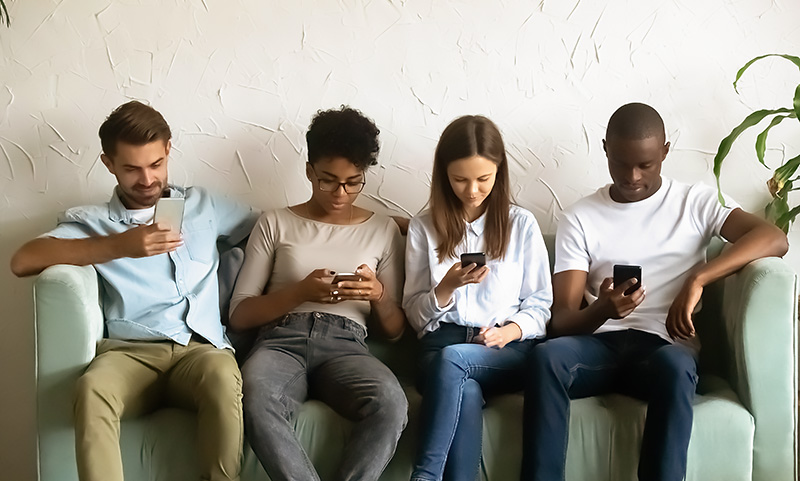 While the term "phubbing" might be new, the behavior has been around since the advent of the smartphone.
Phubbing describes a situation where people pay attention to their phones rather than engaging with the people around them. The term is derived from the words "phone" and "snubbing."
Interpersonal communication and its intersection with technology is a primary research area of interest to Tara Suwinyattichaiporn, associate professor of human communications, at Cal State Fullerton. In reviewing the literature, she found that the effects of phubbing had been studied, but there was little on the potential predictors or characteristics of phubbers.
Working with Mark Alan Generous of Cal Poly Pomona, Suwinyattichaiporn set out to understand the personality and demographics of people most likely to engage in phubbing.
Via email, they invited undergraduate CSUF students to take part in an online survey, resulting in 150 participants.
The research showed that phubbing is positively associated with online self-presentation, online impression management and self-absorption. Women are more likely than men to phub, and frequent texting and social media use are associated with phubbing behaviors.
Suwinyattichaiporn notes two limitations of the study; self-reported data has bias, and the research was done only among Millennials, so findings cannot be extrapolated to other population groups. Still, it is an important step forward, she says.
"The fact that we find significant relationships between these variables says a lot about how prevalent phubbing is, how prominent self-presentation is, and how concerned Millennials are with self-presentation online."
Suwinyattichaiporn, a Millennial herself, admits that she has engaged in phubbing. She believes phones are now part of interpersonal communication, and that this new construct is here to stay.
"This study can be used in understanding Millennial social behavior," she explains. "So many articles talk about Millenials in a negative light. I want this to be seen as a cultural shift — a generational shift. Millennials being self-absorbed could also mean self love or self care. Online self presentation could also mean connecting with more people on a mass level. It's not necessarily a negative."
Suwinyattichaiporn sees opportunities in education, for example. "If self-presentation online is a big deal for students, then [professors can] make it an assignment. Have student do self-presentation online to help other people understand their social identity and teach what it's like to be a certain race, gender or national origin."
Suwinyattichaiporn hopes her research will help change the negative narrative about the Millennial generation. She has plans to delve deeper into phubbing, looking at "co-phubbing" or "mutual phubbing" — when people are all phubbing in each other's presence, but they are also sharing what they see on their phones with one another. Suwinyattichaiporn hypothesizes that this behavior will produce positive social outcomes.
"'Who's Doing the Phubbing?': Exploring Individual Factors That Predict Phubbing Behaviors During Interpersonal Interactions" was published in the April 2019 issue of the Ohio Communication Journal.