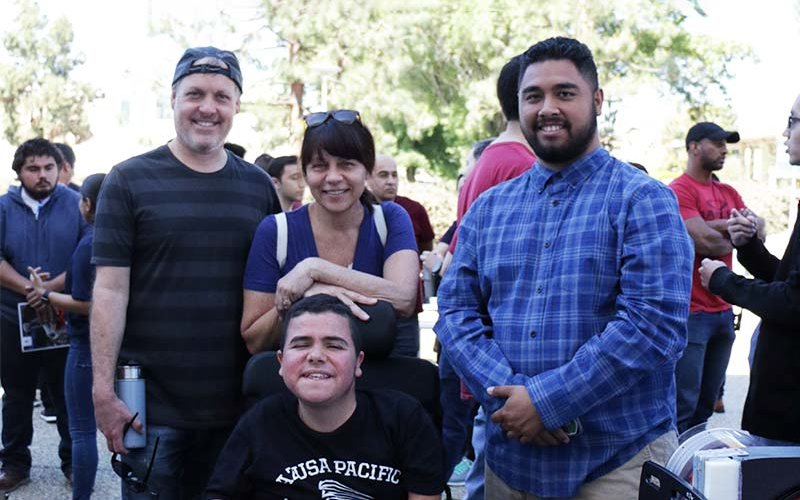 Most people take for granted being able to take a shower without help. But for individuals with ALS (amyotrophic lateral sclerosis), a progressive neurodegenerative disease, or other immobilizing condition, bathing is not a simple task.
To make lives easier for people with disabilities, a team of Cal State Fullerton computer engineering students designed and built a voice-controlled smart shower — an internet-based prototype that allows individuals to use their voice to turn water on and off and control water temperature.
The showerhead is on a motorized track and uses voice controls by interfacing with Amazon's Alexa through the use of an Amazon Echo, explained graduating senior James Michael Perez, the project's team leader.
"Our project allows individuals with disabilities the necessary freedom of showering by themselves," Perez said. "It's practical and beneficial to anyone whose motor functions are restricted, including those with disabilities, as well as the elderly."
The inspiration for the students' senior design project came from Fullerton College film student Ryan Gomez, who has Duchenne muscular dystrophy, a genetic disease that affects mostly males. The 21-year-old was diagnosed at the age of 3, and by 13, was not able to walk. Duchenne slowly takes muscle strength away from the arms, legs, and eventually, the heart and lungs, Gomez said.
Gomez and his former caretaker approached the College of Engineering and Computer Science to help him develop a prototype. Since age 11, he's had the idea for a shower to help disabled individuals.
"I'm in a wheelchair and need to rely on a caretaker to adjust the shower for me, including the temperature and showerhead position. I thought a remote-control showerhead would help others like me to be more independent while taking a shower," Gomez said.
Kiran George, professor of computer engineering, suggested a team of students tackle the innovative idea for their senior design project. George has advised the students in developing a prototype, while Gomez has worked closely with the students on the design. The team also includes computer engineering majors Jessica Diaz, Cory Longshore and Hugo Simon, all graduating seniors.
The student team will present their project at 9 a.m. Wednesday, May 15, during the 2019 Computer Engineering Program-Senior Design Presentation and Demonstration in Room 301 of the Computer Science Building. Gomez and his family will be in attendance. Other graduating seniors also will present their inventive senior projects during the 9 a.m.-noon and 1 to 4 p.m. sessions.
Perez relayed that the students have learned valuable technical and practical lessons by working on the project, including trial-and-error to find the best design to facilitate the movement of the showerhead and motor.
"We've also gained experience working with others, especially since in the workplace, communication is key," said Perez, who has accepted a tentative job offer with the U.S. Department of Defense. "Additionally, I hope to do more application-based projects for people with disabilities or limited mobility. This project taught me how to write in a technical dimension, which is an important skill as an engineer."
Gomez, who plans to transfer to a four-year university after he earns his associate's degree in 2021, is optimistic about the prototype.
"I would like to eventually see a showerhead invention become a tool for others like me who could benefit by bathing on their own with no assistance."