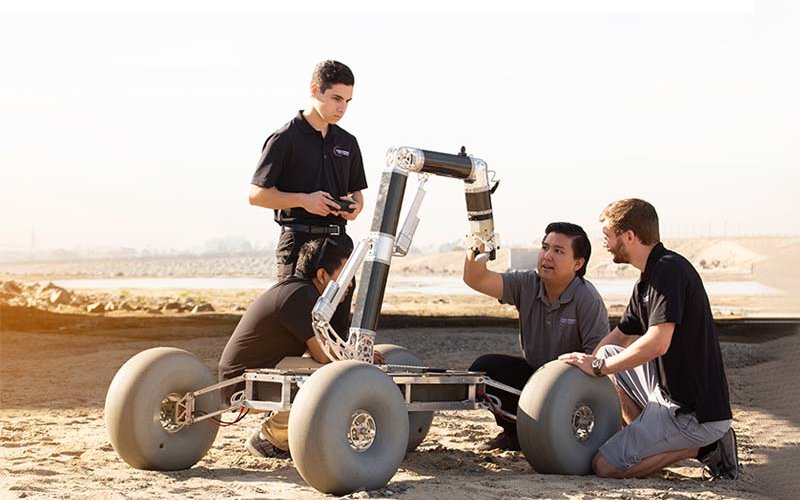 This year's Titan team is ready to launch its new Mars rover, Odyssey, but not to the Red Planet, but at an international collegiate competition this week in the remote Utah desert.
The Cal State Fullerton students are competing May 30-June 1 in the 2019 University Rover Challenge at the Mars Desert Research Station, a Mars-like environment, in Hanksville.
After the most competitive "system acceptance review" milestone in the competition's history, the Titan Rover team is among 36 collegiate teams from 10 countries selected to compete. In fall 2018, a total of 84 teams from 13 countries entered the competition.
Students are facing off against teams from U.S. universities such as Cornell, Stanford, Northeastern, and international institutions in Australia, Egypt, India, Poland and Mexico. CSUF is one of two California State University teams — the other is San Jose State — invited to the final mission, a project of the Mars Society, an international nonprofit humans to Mars organization.
"Being able to compete in the University Rover Challenge is huge," said Class of 2019 graduate Louis Vest, team president and project lead. "Our team had to fulfill rigorous, competitive milestones to be invited as a finalist."
The multidisciplinary team of 60 students includes engineering, science and business majors, with Salvador Mayoral, assistant professor of mechanical engineering, serving as the team's faculty adviser.
"Competing is a way in which we are able to represent Cal State Fullerton and the engineering program," added Vest, who earned a bachelor's degree in mechanical engineering and plans to enter CSUF's master's program in the discipline in fall.
"It's a major opportunity to draw attention to the team's passion and hard work, as well as demonstrate the amazing projects students are able to accomplish."
College students invited to the competition have one challenge: To design and build the next generation of Mars rovers that will one day work alongside human explorers in the field.
In the competition, rovers must complete four tasks, which entail using its robotic arm to flip switches or turn valves; carry payloads, such as delivering tools to astronauts; sample soil for signs of life; and autonomously navigate terrain using GPS coordinates to identify certain objects.
This year's team focused their efforts on refining the vehicle's power and computer systems and creating a cleaner and more comprehensive system, Vest said. The students hope to surpass the 2018 team's finish, in which Titans placed 21st, despite facing challenges, such as part failures.  
"Failure is an important step teams must take in order to learn and improve rover systems. To ensure that we learn from our mistakes, this year's team has doubled-down and created new fail-safe and alternate approaches to tasks in order to ensure an overall redefined performance," said Vest, adding the team tested Odyssey both on campus and in the local desert. "Our goal this year is to maximize our efficiency during tasks in order to increase the total points earned."
For the students involved in the academic year project, working toward designing and building the most advanced Mars rover in the world gives them valuable lessons outside of the classroom.
"What's most exciting about the Titan Rover is that it gives students the opportunity to step outside of their comfort zone and dive straight into a multidisciplinary team project," said Vest, who aspires a career in space exploration. "Students learn practical information and techniques not always found in the classroom that is applicable in their future careers."