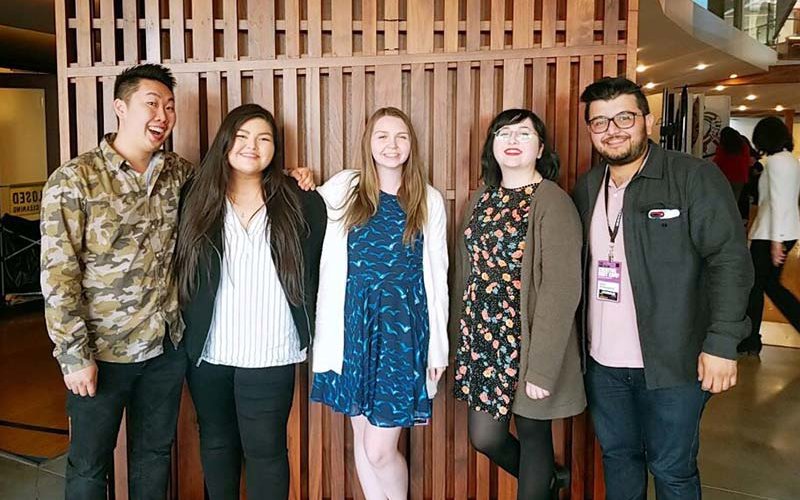 How do you convince teens that vaping isn't cool?
Cal State Fullerton advertising students tackled this challenge at an intensive, four-day Creative Boot Camp in Los Angeles, hosted by top global marketing and advertising agency 72andSunny.
Roughly 50 advertising students embraced this rare chance to create an advertising campaign for one of 72andSunny's clients — Truth Initiative, the nonprofit behind the truth® national tobacco prevention counter-marketing effort.
Students were placed on teams in the role they were most interested in exploring — media, creative or account management — essentially making each team a mini-agency. After receiving a creative brief for direction, students went to work developing their campaign strategy, ideas and execution.
"I was thrilled to use my skills in a real-life scenario," relates Tabitha Butler '19 (B.A. communications-advertising). "I learned exactly what it's like to work as part of a team at an agency — a taste of what my future might be like."
Mike Hernandez '19 (B.A. communications-advertising) agrees. "It allowed me to test the knowledge I gained in class in a way that is far more dynamic. My team had to solve a problem in a way that stood out from other teams. In class we can all get A's, but at the boot camp, only one team can win."
Assaf Avni, lecturer in communications, joined talent from 72andSunny and other advertising agencies to mentor teams throughout the event.
"Having an open slate for creativity but needing to work with a team to deliver results under tight time constraints was an eye-opening experience for many students," he explains. "For many, this is the first time they discovered that there's no right or wrong answer. There are lots of opinions, and what the team agrees upon is the best idea."
On the final day of the boot camp, students presented their campaign to the client. Beyond bragging rights, teams were competing for a captivating grand prize — a chance to interview for an internship at 72andSunny.
CSUF advertising students Tabitha Butler, Mike Hernandez, Melanie Revuelta and Dalia Quiroz took first place; second went to Stephanie Ayala and her team; and third was awarded to Sivan Palmon and team.
Both Butler and Hernandez appreciate the career direction the experience provided and the valuable connections they made.
"I was certain that I was destined to be a copywriter," says Butler. "But by the time we presented our campaign, I had fallen in love with strategy. It opened my eyes to new possibilities."
Hernandez shares, "The mentor I gained helped me craft my resume and gave me advice for cracking into the field. She helped me stand out."
In fact, Hernandez and his resume impressed the head recruiter so much that she hired him for an internship at the TBWACHIATDAY agency.  
The Creative Boot Camp is the brainchild of the One Club for Creativity, a New York City-based nonprofit that supports and celebrates the global creative community. It is held annually in several cities across the globe; 72andSunny regularly hosts the Los Angeles program.