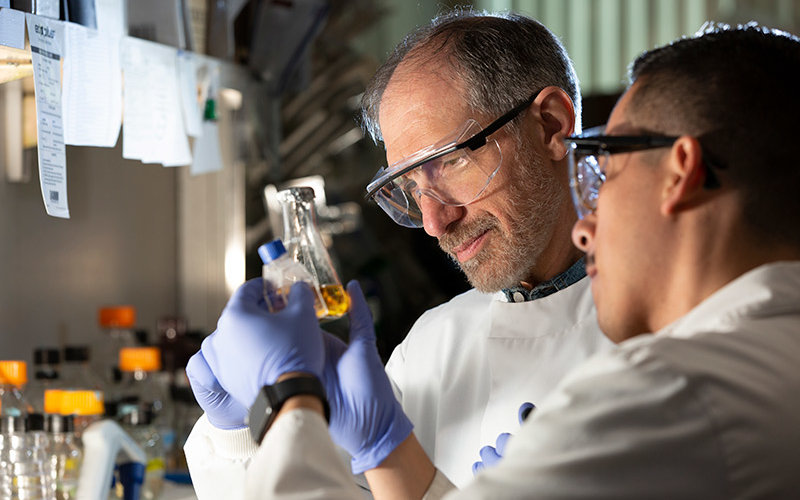 With antibiotic resistance a global public health threat, Cal State Fullerton researchers have found a possible solution. Their latest published research results show that the use of zinc-containing compounds, along with existing antibiotics, is a novel strategy to overcome "superbug" infections.
This work continues the 2014 pioneer discovery by CSUF scientist Marcelo E. Tolmasky and his students who showed, for the first time, that zinc ions bound to chemicals — called ionophores — overcome resistance to a widely used group of antibiotics tapped to treat bacterial infections.
In their latest article, Tolmasky, CSUF faculty researchers María Soledad Ramírez and Veronica Jimenez, and their students studied options to counter bacterial resistance assessing several zinc ionophore compounds. When administered in combination with the antibiotics, known as aminoglycosides, these compounds restore the antibiotics' ability to kill otherwise resistant infectious bacteria.
The research team's findings are described in a new paper published in the peer-reviewed, open-access scientific journal PLOS ONE. The first author of the paper is biology graduate student Jesus Magallon, whose master's thesis is based on this work.
Co-authors are Tolmasky, professor of biological science, who leads the antibiotic-resistance research team; Ramírez and Jimenez, both assistant professors of biological science; and Tolmasky's former student researchers, alumni Kevin Chiem and Tung Tran '09 (B.S. biological science-cell and developmental biology). Chiem '17 '12 (M.S. biology, B.S. biological science-cell and developmental biology) is a doctoral student studying immunology, microbiology and virology at the University of Rochester School of Medicine and Dentistry.
Key findings described in the journal article show that active ionophore chemicals, which are compounds that transport zinc ions across bacterial cell walls, could be developed for use in combination with aminoglycoside antibiotics to overcome resistance in multidrug resistant bacteria, known as superbugs. It is noteworthy that ionophore compounds, which are already being researched as treatment for some types of cancer and neurodegenerative diseases, are known to have low toxicity to humans, increasing the chances of further development for their use as therapies, Tolmasky explained.
The Centers for Disease Control and Prevention recognizes multidrug resistant bacteria as a growing public health issue. The CDC estimates that 2 million people in the U.S. get an antibiotic-resistant infection each year, and at least 23,000 people die. Antibiotics that used to be instrumental in saving lives and avoiding permanent damage due to infection are losing their efficacy due to the development of resistance.
"The combination of antibiotics and zinc ions is a promising alternative to overcome the growing menace of bacterial multidrug resistance," Tolmasky said. "Only approaches that confront the problem from multiple angles will ameliorate its consequences."
Magallon, who plans to complete his graduate studies this summer, added that their research not only confronts the public health threat, but also could reduce treatment costs and save lives.
"It's challenging and expensive to discover new antibiotics. Many pharmaceutical companies are losing interest in the development of new antibiotics due to the perspective of low profits," said Magallon, who plans to earn a doctorate and pursue a career in microbiology and infectious diseases.
"It's imperative that efforts to come up with new antibiotics be complemented with studies to find novel strategies to overcome antibiotic resistance, restoring the effectiveness of our existing antibiotics."
Moreover, the use of antibiotics is essential as part of the treatment plan in medical procedures, such as surgery, organ transplants, orthopedic replacements, dental work, care for premature infants, as well as therapies for cancer and chronic diseases, Tolmasky stressed.
"The increase in resistant bacteria is a threat for people undergoing these procedures. Defining strategies to prolong the efficacy of antibiotics will prevent premature death, irreversible damage and serious complications during a variety of medical procedures," he said.
Tolmasky, CSUF's 2010 Outstanding Professor and the recipient of numerous awards and accolades, has been researching how and why bacteria become resistant to antibiotics for more than three decades. He has published more than 130 research articles and is optimistic about his lab's latest finding.
"This is a new hope in finding formulations that permit the use of existing antibiotics to treat bacteria that acquire resistance to them," he said. "But we'll continue the exploration of new venues to prolong the useful life of existing antibiotics, and further develop those ideas we tried in past years that show promise for use in humans."