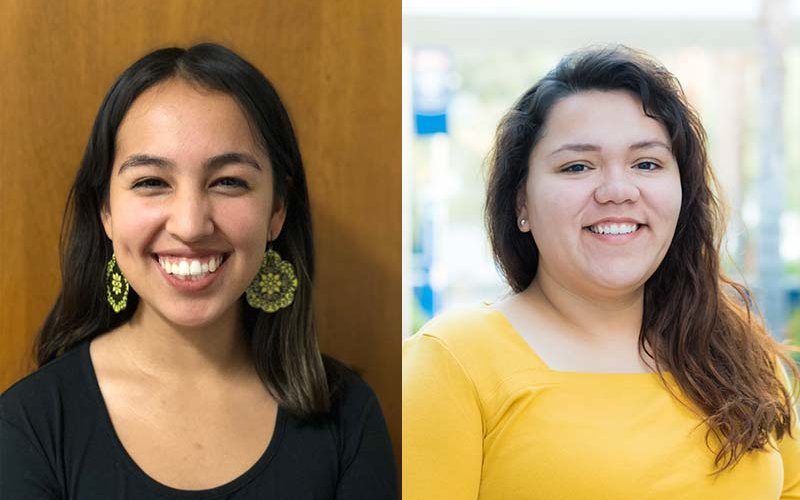 Physics major Denyz Melchor is doing out-of-this-world research to simulate black hole and neutron star mergers to produce gravitational waves — ripples in space and time. This summer, chemistry student Kimberly Lopez-Zepeda begins studying DNA nanotechnology — an emerging field using science, engineering and technology to, for example, design and manufacture mechanisms and machines to treat cancer.   
The Cal State Fullerton undergraduates are first in their families to go to college and earn a bachelor's degree. For their scientific endeavors and academic achievements, the future scientists also are the first CSUF students to be selected as 2019 Barry Goldwater Scholars.
The Barry Goldwater Scholarship program is designed to encourage outstanding juniors and seniors to pursue advanced degrees and careers in natural sciences, mathematics and engineering. The students were selected from a pool of more than 5,000 undergraduate students, with 1,223 students nominated by 443 academic institutions nationwide. Of these, 496 college students were selected to receive scholarships of up to $7,500 each year.
"Denyz and Kimberly have all the needed qualities as emerging leaders in the field of science," said Monique Posadas, campus representative of the Barry Goldwater Scholarship Program and assistant director of CSUF's Ronald E. McNair Postbaccalaureate Achievement Program. "These Latina scholars will make notable impacts wherever they go. They are trailblazers."
Melchor plans to pursue a doctorate in astrophysics and Lopez-Zepeda in chemical engineering, and both aspire to become research professors.
"This scholarship award shows my dedication and effort, as well as validates the research I have done here at CSUF and abroad," said Melchor, who spent last summer conducting gravitational-wave research at Monash University in Melbourne, Australia. Her work led to co-authoring a journal paper published in the Astrophysical Journal Supplement Series.
Lopez-Zepeda shared that receiving the scholarship has reinforced her research and career goals: "Personally, being awarded this scholarship is not only an honor, but also an affirmation on the potential I have in contributing to the sciences."
Melchor's research is contributing to the work of a collaboration of global gravitational-wave scientists, including CSUF physicists and their students, known as the LIGO Scientific Collaboration. Their work contributed to several gravitational-wave discoveries produced from merging black holes and the collision of neutron stars. 
A researcher at CSUF's Gravitational-Wave Physics and Astronomy Center, Melchor is a McNair Scholar, a federally funded program that prepares students for graduate studies, and works with faculty adviser Geoffrey Lovelace, associate professor of physics. She is involved in a new research project focusing on simulating merging systems, where a spinning black hole rips apart a neutron star. This type of black hole-neutron star merger has not yet been detected.
This summer, she is studying gravitational-wave science in the Research Experiences for Undergraduates (REU) program in astronomy and astrophysics at Cornell University in New York. 
A former McNair Scholar, Lopez-Zepeda is transitioning into CSUF's Maximizing Access to Research Careers (MARC) program, funded by the National Institutes of Health for students interested in research careers. This summer she begins cross-disciplinary research in the labs of Nina Robson, associate professor of mechanical engineering and director of CSUF's Human Interactive Robotics Lab, and biochemist Madeline Rasche, professor of chemistry and biochemistry.  
Lopez-Zepeda will join the CSUF undergraduate "Titan Nano" team and high school students to explore the possibility of using mechanical engineering principles in modeling, designing and creating DNA robotic devices at the nano-scale.
"The research is expected to enable the construction of complex DNA nano-machines that could be used to mimic the functionality of natural bio-molecular machinery, or to deliver drugs to cancer cells," Robson said. 
Lopez-Zepeda also has conducted chemistry research at other universities, including UC Riverside, which led to her first co-authored scientific article in the Journal of the American Chemical Society. This past academic year, she worked on CSUF research to advance the field of renewable energy sources.