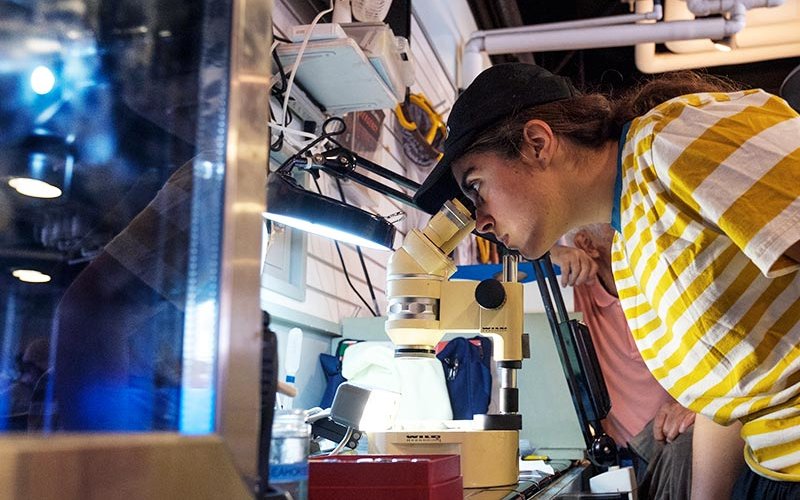 This summer, six new scholars in the Southern California Ecosystems Research Program combed Cabrillo Beach collecting empty plastic water bottles, discarded beach toys and broken flip-flops. It was part of a real-life lesson on how plastics are polluting the ocean and becoming part of the marine food web.
"Microplastics — small particles of plastics — are found everywhere in the environment, including the ocean floor, and are being ingested by animals — and eventually by humans," said incoming scholar Kevin Whittemore. "It's important to learn about microplastics because we are only beginning to realize how prevalent and persistent of a problem they are."
New scholar Jennifer Ibarra agreed, adding that many ignore the growing problem of ocean pollution. "While many people may have heard about the 'Great Pacific Garbage Patch' — the largest accumulation of ocean plastic in the world between Hawaii and California — most don't think about the harmful consequences to marine life, and potentially to humans, that comes from pollution in a section of water from the surface to the bottom of the sea."
The students studied microplastics at Cabrillo Marine Aquarium in San Pedro as part of the program's summer "boot camp" for the six incoming scholars, all biological science majors. Undergraduates participate in the program, known as SCERP, for up to two years, conduct research with biological science faculty members, and prepare for graduate school or careers in ecology and environmental biology. 
During the 2019-20 academic year, the new scholars, which also includes Abigail Cho, Taylor Naquin, Mayra Silva and Julia Teeple, will join four continuing scholars in the program. William "Bill" Hoese, professor of biological science, and Jennifer Burnaford, associate professor of biological science, direct the program.
Faculty members and continuing SCERP scholars lead the summer field sessions, which focus on designing and running experiments to address research challenges. During the program's final weeks, students analyze data and prepare research papers to present at future scientific conferences.
Plant biologist Jochen Schenk, professor of biological science, took students to the Desert Studies Center in the Mojave National Preserve for a week to study how desert plants such as alkali goldenbush and creosote bush cope with salinity at Soda Dry Lake. The research is important because salt in habitats across the globe is increasing, Hoese noted.
Students also investigated the diversity and divergence of pipefish at Cabrillo Beach and Redondo Beach under the mentorship of Ryan Walter, assistant professor of biological science. They studied whether the fish in the two areas are genetically different from one another.
"Pipefish are important members of the marine food chain, so investigating how populations are related can help us understand how to manage nearby coastal fisheries," Hoese said.
They spent the third week at Cabrillo Marine Aquarium with SCERP alumnus Andres Carrillo '07 '13 (B.S. biological science-marine biology, M.S. biology), the aquarium's research curator who earned a doctorate from UCI, and Samantha Leigh, a postdoctoral scholar studying microplastics with Misty Paig-Tran, assistant professor of biological science. Students examined how microplastics enter and move through the marine food chain, and found that microplastics can be transferred from planktonic prey to predators.
"If plastics can enter the base of the food chain, they could be transferred up the food chain and impact humans who consume seafood," explained Leigh, who earned her doctorate in ecology and evolutionary biology at UC Irvine.
Hoese pointed out that the SCERP summer experience "enables students to design and conduct experiments in the field, which requires continual problem-solving that helps them identify their strengths."
For SCERP students, the boot camp motivates them to envision their future careers.
Ibarra, who had planned to become a zookeeper, now aspires to become a researcher in the field of ecology. "Being in SCERP makes me crave more education and understanding of biology, to the point where I am motivated to pursue a master's degree and eventually a doctorate."
Whittemore also plans to earn a graduate degree and pursue a research career: "This program is preparing me for that next step. SCERP offers an amazing level of academic mentorship and hands-on experience about the scientific process."