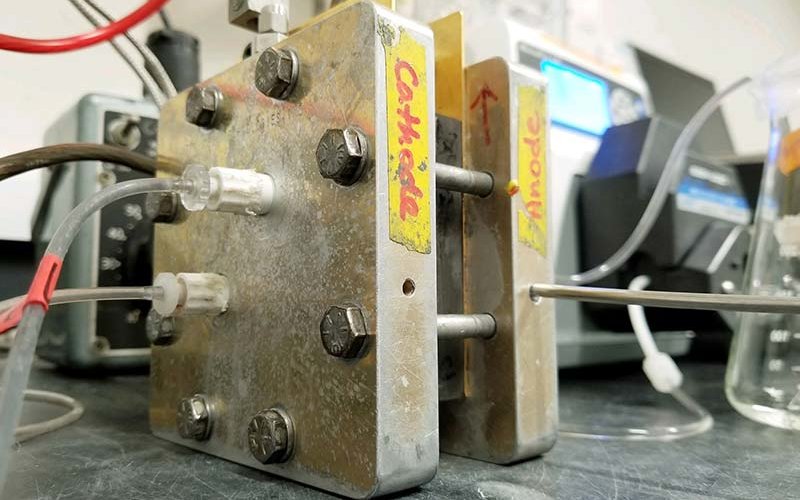 As an undergraduate, Omar Muneeb began working in John Haan's lab on a project that explored the role of converting alcohols, such as ethanol, to energy using a fuel cell — an electrochemical cell that cleanly and efficiently converts the chemical energy of a fuel into electricity.
The chemistry alumnus' persistence and passion for research led to the development of the first fuel cell of its kind — one powered by vitamin C mixed in an alkaline solution.
His contribution to the research community has earned him the university's 2019 Giles T. Brown Outstanding Thesis Award, which recognizes distinguished scholarly achievement at the master's level.
During his graduate studies, Muneeb persevered in trying to determine if there was a different fuel to convert to energy without using precious metals like platinum or palladium, which act as a catalyst for the conversion of alcohols into energy.
"Omar was driving the research ideas and executing them with a high level of independence," noted Haan, who nominated his former student for the award. "Independent of my direction, he decided to try ascorbic acid, known as vitamin C, as fuel. This was an exciting discovery for Omar and shows promise for the field of energy production."
This research resulted in five manuscripts published in peer-reviewed scientific journals with Muneeb as the first author and an outstanding master's thesis. Muneeb's thesis work revealed the development of a fuel cell that is metal-free, less toxic, inexpensive and is an alternative method of energy.
"I poured my heart and soul into my work every day. To receive this award is great validation of what I have achieved thus far," said Muneeb, who earned a master's degree in chemistry (analytical chemistry) in 2018 and teaches chemistry courses at West Coast University.
"It reassures me that I have chosen the right career path. Through teaching, I hope that I am setting an example to all students that hard work and passion leads to success."
Fuel cells are a viable alternative in the advancement of energy sources away from non-renewable fossil fuels such as coal, petroleum and natural gas, added the alumnus, who also earned a bachelor's degree in chemistry in 2016 from CSUF.
"The objective of my work was to enhance the efficiency of renewable sourced fuels to provide more powerful, greener and cost-effective alternative energy technology," stressed Muneeb, who presented his research at national conferences and has won other awards for his work.
His thesis work also has led to a dramatic expansion of Haan's research program, creating opportunities for 20 undergraduate and two graduate students who are continuing his work to further investigate using vitamin C as a fuel, Haan pointed out.
Haan and his students are collaborating with Michael Groves, assistant professor of chemistry and biochemistry, to use computational chemistry to study the role of different structures of ascorbic acid on its energy conversion efficiency.
As for Muneeb, he hopes his thesis work to develop more environmentally friendly fuel cells furthers solutions to the world's energy crisis.
"Fuel cells are the future. I believe they will replace our current means of electrical production."